22 Feb

The ACT-A Oxygen Emergency Taskforce – One Year On…

Updated Oxygen Taskforce Milestones
23 February 2022 

One year after the launch of the Access to COVID-19 Tools Accelerator (ACT-A) Oxygen Emergency Taskforce, what has been achieved? 

Against a backdrop of widespread oxygen shortages across Latin America, Asia, Africa and the Middle East, the ACT-A Oxygen Emergency Taskforce was launched on 25 February 2021 – an unprecedented effort by more than 20 UN and global health agencies* to work together to support low- and middle-income countries (LMICs) to mitigate pandemic-related medical oxygen shortages. 
The first phase (February – October 2021)
During the first phase, Taskforce members mobilized more than $US700 million in grant financing to help LMICs avert oxygen shortages and ensure that access to oxygen was front and centre of the ACT-A response. 
Specifically:
The Global Fund provided ~$US475 million in grants to help more than 66 LMICs purchase oxygen supplies, including Pressure Swing Adsorption (PSA) plants, concentrators, liquid oxygen, ventilators, cylinders, pulse oximeters and more.

 

WHO and UNICEF provided direct technical support – procuring $US132 million and delivering $US89 million worth of oxygen supplies to more than 120 countries, including oxygen plants, concentrators, cylinders, advanced respiratory equipment, patient monitors, pulse oximeters and oxygen delivery consumables.
Unitaid, Wellcome Trust and BMGF provided ~$US30 million to the WHO Health Emergencies Programme (WHE), and to NGOs including PATH and CHAI, to increase the oxygen support they provide to specific LMIC governments – for procurement as well as maintenance and training.

 

During 2021, Unitaid invested an additional $US17 million to NGOs ALIMA, PATH, Partners in Health, The Elizabeth Glaser Pediatric AIDS Foundation (EGPAF), CHAI and the WHE – for catalytic interventions including rapidly establishing COVID-19 treatment facilities in West Africa, distributing pulse oximeters, and improving the oxygen market by putting up collateral for emergency oxygen access and equipment stockpiling.

 
In addition, at the Global COVID-19 Summit in September, the US Government announced $US50 million to increase access to medical oxygen in partner countries and called for a coalition of governments, foundations, NGOs and companies to mobilize significant additional funding for oxygen access to "Save Lives Now". 
The second phase (October 2021 – present)

 
On 28 October 2021, the ACT-A released a new Strategic Plan and Budget seeking an additional $US1.4 billion to enable the ACT-A Oxygen Emergency Taskforce to continue to finance and provide oxygen supplies to LMICs in need during 2022. 
The new strategy set an immediate goal of supporting the delivery of 110 to 140 million cubic meters of oxygen to LMICs by the end of 2021 and a longer-term goal of meeting the medical oxygen needs of 6 to 8 million severe and critical patients by September 2022. 
Most of the oxygen funding needed is for procurement and delivery and to support the repair, maintenance and scale up of local medical oxygen production via The Global Fund, UNICEF, Unitaid and WHO. 
In December 2021, the US Government announced a further $US75 million for additional support for USAID's Rapid Response efforts, which includes investment to help strengthen oxygen market systems to improve reliable oxygen production and delivery. 
What next?
As a result of the critical work of the Taskforce in 2021, many LMICs entered 2022 with a far greater capacity to meet the oxygen needs of COVID-19 patients. Despite causing less severe disease, the sheer scale of global transmission of the Omicron variant is driving hospital admissions to record highs in many countries, increasing the need for medical oxygen. 
But more support is needed to bridge the LMIC oxygen shortages during 2022. 
Oxygen therapy remains the first line of treatment for those with severe COVID-19 in low-resource settings. The ACT-A Oxygen Emergency Taskforce has demonstrated that it can work effectively with LMIC governments and their local partners to increase access to medical oxygen in hospitals, ensure safe oxygen therapy to patients, and support staff to operate and maintain the equipment. 
Most of the G20 nations have not yet contributed to ACT-A efforts and to oxygen support. Outreach and coordinated efforts through the ACT-A mechanism continue to mobilize countries and private sector donors with the financial and/or industrial capacity to support LMICs in their national COVID-19 responses, including increased access to oxygen. 
Investments made via the Taskforce will not only help countries reduce COVID-19-related deaths but will strengthen health systems for the long term so they can continue delivering oxygen to save lives well beyond the pandemic. This will help countries make progress on many of their SDG targets, including reducing deaths among newborns, children, women in childbirth, and adults with both communicable and non-communicable diseases. 
Investing in medical oxygen will also help countries improve national pandemic preparedness and response as the risk of respiratory outbreaks where oxygen is a cornerstone of critical care remains high. 
ENDS…/
Read the Oxygen Taskforce Milestones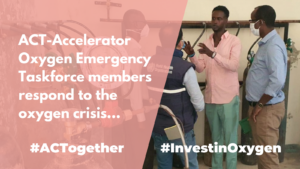 ACT-A Stories social media tiles
*The ACT-A Oxygen Emergency Taskforce originally included Unitaid and the Wellcome Trust as Co-chairs with membership drawn from the WHO and its Biomedical Consortium, UNICEF, UNOPS, The Global Fund, the World Bank, USAID, the Clinton Health Access Initiative (CHAI), PATH, Save the Children, the Bill & Melinda Gates Foundation (BMGF), the Access to Medicine Foundation and the Every Breath Counts (EBC) Coalition. Later in 2021, the Pan American Health Organization (PAHO) and the Africa Centres for Disease Control and Prevention (Africa CDC) joined the Taskforce. As of January 2022, Unitaid is the sole chair.