18 Feb

Reflections on the inaugural Global Forum on Childhood Pneumonia

Interview with Leith Greenslade, Coordinator, Every Breath Counts Coalition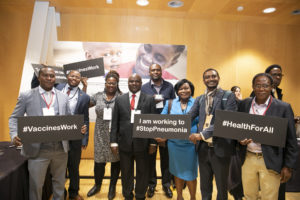 For three days in late January 2020, 400 individuals from 60 countries gathered in Barcelona to work out better ways to fight the leading infectious threat to child survival – pneumonia. Leith Greenslade, coordinator of the Every Breath Counts Coalition, a 40-member public-private partnership, reflects on what was achieved and what it means for children.
1) Why did we need a special meeting of health leaders on pneumonia?
Pneumonia has been called the "forgotten killer of children",[1]a "global cause without champions",[2] and "the missing piece" in the infectious disease agenda.[3] All of that is true. Decades of neglect by national governments and international health agencies have kept child pneumonia deaths high – more than 800,000 each year – and progress is too slow to achieve the Sustainable Development Goals (SDGs) by 2030. We have to change the way we are working or 11 million more children will die in the next decade.[4]
2) Why are so many children still dying from pneumonia?
Too many children are at risk of getting pneumonia because they are malnourished, exposed to polluted air, and/or unvaccinated. We know that in many parts of Africa and Asia, more than 10% of children are wasted, less than 10% of households have access to clean cooking technologies, and less than half of the kids are fully protected with all of the pneumonia-fighting vaccines (pentavalent, measles and pneumococcal conjugate vaccine or PCV). The problem continues when children become sick with suspected pneumonia as almost half (45%) are not taken to a health facility.[5] And it just goes downhill from there. We have data from Africa showing that less than one in five children with severe pneumonia gets a correct diagnosis.[6]
So what happens to the other children? They get the wrong medicines or no medicines at all and are sent home; many to die.
3) Who is responsible for this state of affairs?
Ultimately, governments are responsible for the health of their children. But governments have not been prioritizing pneumonia despite it being the leading killer of children in most low- and middle-income countries. We need to ask why. One of the reasons is that many depend on assistance from high-income countries to run their health systems but this has not prioritized pneumonia. For example, in 2011, at the end of a decade of massive growth in international development assistance for health, just 2% was allocated to pneumonia.[7]
More recent estimates prepared by Development Initiatives and released by UNICEF at the Global Forum reveal that $US670 million was spent on pneumonia in 2017, compared to $US80 billion for HIV/AIDs and $US19 billion for malaria.[8] The vast majority (95%) of the pneumonia funding is for vaccines, and just $US13 million (less than 2%) has been spent on community case management, diagnosis and treatment based interventions. It should be no surprise that this is where the biggest gaps are. The root cause of the current situation is that health spending at both the national and international levels does not match disease burden. We should be spending more fighting the leading killers of children and dollars should follow disease burden, but they don't.
4) Are you arguing for a new pneumonia-specific program – a Global Fund for Pneumonia?
No! That's exactly what we don't need. Governments and international health agencies do need specific strategies and budgets to get pneumonia under control, but when it comes to delivering pneumonia services, these must be integrated with other child health services. Families must have one place to go, close to home, where they are not charged for care. It should be the same place a child is vaccinated and a sick child is treated. Families must have confidence that health workers will be able to correctly diagnose a sick child and provide the best treatment no matter what is causing the illness. The disease-specific versus integrated health agenda that we hear so much about is a false choice. Countries need both if they want to reduce child mortality.
Rather than a Global Fund for Pneumonia, I would ask – should aspects of pneumonia control be added to the current Global Fund mandate? At the international level, responsibility for pneumonia control is fragmented with several missing pieces. Gavi, the Vaccine Alliance has a clear mandate to provide the pneumonia-fighting vaccines and they are doing that. Other agencies are responsible for reducing child wasting and improving air quality and they are doing that (although many would argue not very effectively). But there is no agency responsible for pneumonia diagnosis and treatment. Unitaid has recently stepped up to invest in better diagnosis for pneumonia in nine countries (a welcome move!) and the World Bank's Global Financing Facility is certainly an opportunity for countries to finance some of their pneumonia control gaps, but it is the Global Fund that is best positioned to help countries address the diagnosis and treatment gaps at scale, especially across Africa.
5) What is stopping international health agencies from filling pneumonia control gaps?
In 2019, 12 global health agencies pledged to work more effectively together to help countries make progress to the health SDG,[9] but this will amount to little if we don't change the ways the agencies measure their impact. If international health agencies – and their CEOs – could get to the point where they were measured not just on the number of vaccines or bed nets delivered, or on the number of children receiving malaria or HIV/AIDS medicines, but rather on child lives saved, we would see some very different behavior. After all, what has an agency really achieved if the child who is sleeping under a bed net or who has the polio vaccine, dies the following year from pneumonia? What exactly is the value in a system that can protect a child from malaria and polio but leave that same child exposed to death from pneumonia or diarrhea? We know the leaders of these agencies are very concerned about "mission creep", but if your mission is to save children's lives and you get the chance to do that more cost-effectively you don't just creep, you run! There is actually great value in the Global Fund and Unitaid investing in pneumonia, but their donors will need to change the way they measure their impact to capture these benefits and see these agencies really work for children.
6) In the context of fragmented international support for pneumonia control, what should low- and middle-income countries be doing?
Nations have a democratic right to determine their own health systems and in democracies, governments are elected to protect the health of their people, and especially the children, who are the future of the country. The government is ultimately responsible and accountable to its citizens and when international actors get in the way of this relationship it's not healthy for democracy or for development. So countries should develop their own health plans and priorities matched to local burdens of disease. Because pneumonia is such a major killer in low- and middle-income countries most will need Pneumonia Control Strategies, and they should go ahead and develop them and then approach international agencies for support, if needed. This is especially important for the 10 countries which account for two-thirds of all child pneumonia deaths, including India, Nigeria, Pakistan, Democratic Republic of Congo, Ethiopia, China, Bangladesh, Tanzania, Afghanistan and Niger.
These strategies should lay out exactly how each country will drive child pneumonia deaths down to 3 per 1,000 births by 2030 – the agreed global target set by WHO and UNICEF and it aligns well with SDG 3.[10] Governments should identify the most critical prevention, diagnosis and treatment gaps, and determine how much it would cost to fill them, prioritizing the most vulnerable children. The ingredients for success are pretty much the same in every country – reduce wasting, improve air quality, increase vaccine coverage, bring healthcare close to home with primary health care workers trained and equipped to diagnose and treat pneumonia, and invest in literate, empowered mothers. We shouldn't overlook this last one – it might turn out to be the most important. We know that the children of educated mothers are much more likely to survive childhood and so rates of female illiteracy as high as 30% in India, 50% in Nigeria and Pakistan and more than 80% in many West African countries are unacceptable.[11] When countries can fill all of these gaps for the children at greatest risk of death, child pneumonia deaths will fall.
We should not forget that pneumonia control strategies are also epidemic and pandemic preparedness strategies. What we are seeing coming out of China with the coronavirus is a pneumonia epidemic, potentially pandemic, and if that crosses into the countries that are already struggling to control pneumonia, there could be major implications for children and the elderly and other vulnerable populations in these countries. These countries could play a shocking price for the decades of neglect of pneumonia control.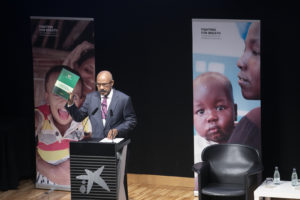 7) Why is Nigerian leadership so important in pneumonia control?
Nigeria has more child pneumonia deaths than any other country, including India, and progress is very slow in reducing these deaths. Between 1990 and 2017, child pneumonia deaths in Nigeria fell by just 11%. This is why Nigerian leadership on pneumonia is critical and why the launch of the world's first Pneumonia Control Strategy by the Nigerian Minister of State of Health, Adeleke Olorunnimbe Mamora (pictured) at the Global Forum was so well received. Furthermore, many African nations pay close attention to what Nigeria is doing in health policy and programs and given the challenges, if they can achieve the GAPPD target, any country can. We applaud Nigeria for their leadership in pneumonia control and the Nigerian delegation contributed so much to the success of the Global Forum, especially Florence Otedola, aka DJ Cuppy, who brought us all together on the dance floor!
8) What are your top picks for breakthrough pneumonia innovations?
It's said that pneumonia remains a 21st-century problem treated with 20th-century therapies and diagnosed using 19th-century tools. We really do need more innovation in pneumonia! I'm very excited about the innovations we highlighted at the Forum – the RSV vaccine, lung ultrasound, non-electricity dependent medical oxygen and local disease burden maps. The RSV vaccine targets the leading viral form of pneumonia, which could be responsible for 30% of all severe child pneumonia cases, so it has the potential to save a lot of lives, especially among babies under six months. Lung ultrasound could really improve pneumonia diagnosis which in my view is the weakest link in the pneumonia control chain. We still need simple, easy-to-use tools that can predict with great accuracy a child that is likely to die from pneumonia in the next 48 hours. I am also obsessed with the local burden of disease maps that the Institute for Health Metrics and Evaluation (IHME) is developing. If these maps can accurately pinpoint clusters of child deaths at very low administrative levels, by cause, governments have a new tool to target scarce resources to the children who need them the most. More lives will be saved as a result. These maps hold much promise for a "precision public health" approach to child survival.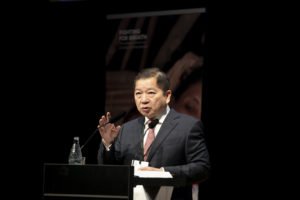 9) What were the highlights of the Global Forum for you?
We had very strong attendance from more than 20 governments and some terrific announcements. These include the introduction of the PCV by the Indonesia Minister of National Development Planning, Suharso Monoarfa (pictured), using the Advanced Market Commitment (AMC); the world's first Pneumonia Control Strategy from Nigeria; and the Spanish government signaling increased support for international development and Gavi specifically. It was great to see the Unitaid $US43 million investment in better diagnostic tools across nine countries with PATH and ALIMA and the cheaper $US2 per dose PNEUMOSIL® PCV vaccine from the Serum Institute of India, which will mean a lot more children can be protected.
This was the first time youth activists have campaigned for action on childhood pneumonia and Daryl Álvarez from Spain and Ridhima Pandey from India blew the audience away with their Youth Call to Action on Childhood Pneumonia. And I was thrilled to see so many powerful women from low- and middle-income countries on stage. Anyone who says it's hard to find amazing women for global health events is clearly wrong.
10) What were you most disappointed by?
That we didn't get a breakthrough on financing the non-vaccine pneumonia technologies – mainly new diagnostic tools, antibiotics and medical oxygen. The Global Fund did signal that it would support the training of health workers in pneumonia as part of integrated community case management but it stopped short of helping countries to equip these workers with pneumonia diagnostic tools and treatments. There is some great work being done in these areas – WHO and UNICEF have produced new support tools to help countries in select, procure, use and maintain medical oxygen and there are several oxygen innovators with great solutions – but still no clear way to finance this. We heard several governments say they have no way to pay for amoxicillin.
I am also concerned about just how easy it's going to be to introduce the PCV vaccine into fragile countries. Although Gavi has relaxed the PCV eligibility rules for fragile countries, they still have to co-finance the introduction of the vaccine and several at the Forum said this would remain a barrier. With two out of every three child pneumonia deaths now occurring in fragile settings we must find ways to vaccinate these children. For example, PCV coverage in Chad, Somalia and Sudan is zero! This has to change over the next five years.
Other disappointments include the lack of effective tools to prevent low birth weight, child wasting and air pollution – major risk factors for child pneumonia deaths. Most wasted children live in Asia and not in emergency settings with 15% of kids in South Asia wasted and many appearing to be born wasted. Only about one in four children receives treatment so we need effective prevention, particularly by supporting the nutrition of adolescent girls and mothers. With respect to air pollution we know it puts so many kids at risk of pneumonia but we don't really know how to reduce children's exposure inside the home and outside. This is a problem that is getting worse, with climate change. The fact that we don't know these things suggests a need for more research. Just 3% of infectious disease research funding is currently spent on pneumonia – it's shocking.[12]
11) Does the Global Forum give you confidence that the GAPPD will be achieved in every country by 2030?
Not only will GAPPD be achieved, but SDG 3 will also be achieved as a result of successful efforts to control pneumonia. The new data released at the Global Forum by Save the Children shows that over the next decade, 9 million children's lives can saved by focusing on pneumonia, but just 3 million of those lives saved are from pneumonia – 6 million are from other causes including diarrhea, sepsis, measles, meningitis and malaria. That's a lot of children – in fact, it amounts to every child under the age of 18 in Spain. This is why we can say with confidence that pneumonia is a smart strategy for countries to achieve the child survival SDG. It took the world 15 years to reduce child deaths from 12 million to 6 million and now countries have 10 years to reduce 6 million child deaths to under 3 million and achieve the SDGs. It is possible by leading with pneumonia-fighting interventions. Pneumonia control is key to finishing the child survival revolution.
12) What role will the Every Breath Counts Coalition play?
The Coalition exists to support national governments to achieve the GAPPD target for pneumonia and to rally international donors and agencies to support national efforts where necessary. We have a special focus on countries with the largest numbers of children at greatest risk of death from pneumonia: Chad, Niger, Mali, Democratic Republic of Congo, Angola, Ethiopia, Somalia, Pakistan and Afghanistan. We are proud of our work with the Nigerian Government which culminated in the first Pneumonia Control Strategy. We want to work with other governments to develop similar strategies.
At the global level, the Coalition focuses on four "global public goods" – initiatives that global actors are best placed to work on because they benefit all countries. This includes developing a set of routine prevention, diagnosis and treatment indicators that all countries can use to measure progress to the GAPPD target, establishing pneumonia research priorities and encouraging donors to fund them, accelerating uptake of pulse oximetry and oxygen solutions in LMICs, and continuing a robust advocacy and communications strategy to keep the momentum going and hold all partners to account. For example, the coalition will play a major role in getting more signatories for the Global Forum Declaration (pictured) which you can read and sign online here. Do it! We need to show the world there is great demand for action on pneumonia.
Join the movement! The death of a child is the greatest injustice of all. But if we join forces to build a better future for our children there's nothing we cannot achieve.
Also join us on social media @Stop_Pneumonia using #StopPneumonia and #EveryBreathCounts and visit our website www.stoppneumonia.org 
Photos © Myriam Maloni
February 2020
*****************************
END NOTES
[1] Wardlaw TM, Johansson EW, and Hodge, M, Pneumonia : the forgotten killer of children, World Health Organization (WHO) and UNICEF, 2006.
[2] Watkins K and Sridhar D. Pneumonia: a global cause without champions. Lancet. 2018; 392: 718-719.
[3] JustActions. The Missing Piece. Why Continued Neglect of Pneumonia Threatens the Achievement of Health Goals,  2018.
[4] Save the Children. Fighting for Breath: A call to action on childhood pneumonia, 2017.
[5] All data from WHO/UNICEF, latest.
[6] Unpublished data from the Clinton Health Access Initiative (CHAI) and Results for Development.
[7] Institute for Health Metrics and Evaluation (IHME). Pushing the Pace: Progress and Challenges in Fighting Childhood Pneumonia, 2014.
[8] UNICEF, Every Breath Counts and Save the Children. Every Child's Right to Survive: an agenda to end pneumonia deaths, 2020.
[9] WHO. Stronger collaboration, better health: global action plan for healthy lives and well-being for all. Strengthening collaboration among multilateral organizations to accelerate country progress on the health-related Sustainable Development Goals, 2019.
[10] WHO and UNICEF. Global Action Plan for Prevention and Control of Pneumonia and Diarrhoea (GAPPD), 2013.
[11] UNESCO, latest.
[12] Research Investments in Global Health Study (ResIn). Sizing up Pneumonia Research: Assessing Global Investments in Pneumonia Research 2000 – 2015, 2018.