09 Dec

UNICEF and WHO combine forces with global experts to address the oxygen availability gap facing children with severe pneumonia

Pneumonia kills more than 800,000 children every year, yet it is preventable and treatable. An estimated 13 per cent of children with pneumonia have hypoxemia, a condition that increases the risk of death by up to five times. These roughly 1.86 million children with hypoxemia each year require oxygen therapy for treatment. However, there is an oxygen availability gap in low- and middle-income countries where 90 per cent of pneumonia deaths occur. Medical oxygen is also needed for surgery, anesthesia, emergency obstetric care and management of respiratory diseases for children and adults.

In 2017, UNICEF and WHO formed a strategic collaboration to improve access to and utilization of oxygen therapy systems in low-resource settings. This collaboration aims to reduce information asymmetry and bottlenecks in the accessibility of oxygen products through three main outputs: the development and promotion of inter-agency technical specifications and guidance (as part of the WHO Technical Series); an updated UNICEF Supply Catalogue to include a complete selection of oxygen system products needed to deliver oxygen to a child; and the development of a decision-assist tool to support governments with oxygen system planning and procurement.

UNICEF and WHO are pleased to announce that the first project output –  the publication of WHO-UNICEF Technical Specifications and Guidance for Oxygen Therapy Devices –  is now available for download from the WHO website this World Pneumonia Day. The purpose of this interagency publication is to provide health facility administrators, procurement officers, engineers and others with harmonized product specifications for a wide range of oxygen products, and to provide guidance on the selection, procurement, use and maintenance of these products. The publication includes technical specifications for a set of 15 essential devices to deliver basic oxygen therapy.

Throughout the remainder of 2019, UNICEF will be concluding their tendering activities for this project and will announce in 2020 the new range of oxygen products available in the Supply Catalogue. With new Long-Term Agreements in place with suppliers, UNICEF country offices and local partners will be able to source 20 quality and fit-for-purpose products for delivering oxygen therapy through UNICEF procurement services, including two sizes of oxygen concentrator, three types of pulse oximeters, devices to regulate flow and devices to deliver oxygen to patients such as nasal prongs and catheters.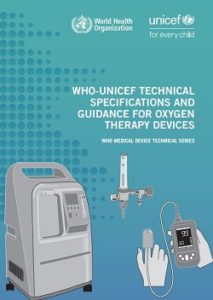 User needs validation and testing are underway for the third output – the prototype decision-assist tool for oxygen system planning. Through a consultative process with global experts, as well as in-country validation exercises with UNICEF country offices and ministries of health, learnings from this phase of work will be used to inform plans for further development of a web-based tool, so that it can be more widely available to countries and their supporting implementing partners.
Since its inception, this project has benefitted enormously from the technical and strategic input of over 25 global experts via two advisory groups: a Technical Review Group (TRG) and an Advisory Committee (AC). The TRG – an interdisciplinary group of expert clinicians and engineers in the areas of childhood pneumonia, oxygen therapy technologies, pulse oximetry and biomedical engineering – provided input and feedback on the technical specifications and chapters of the guidance document. The AC – with representation from a broad spectrum of stakeholder organizations working in the areas of pneumonia and oxygen therapy – provided technical and strategic advice on all aspects of the project.  This collaboration was made possible with financial support from the Bill and Melinda Gates Foundation.
Every child in need of oxygen should have access to appropriate oxygen therapy. The resources and tools disseminated as part of this joint effort will support ministries of health and other implementing partners to select and procure the technologies needed to ensure oxygen supply is available to those in need, especially children suffering from severe pneumonia in low-resource settings. For every child, every breath counts.
ENDS…/
Authors: Bev Bradley, Cindy McWhorter, Mansi Dalal, Andrew Gammie, Mulugeta Mideksa Amene (Product Innovation Centre, UNICEF), Dan Ilie (Markets & Supply Financing Centre, UNICEF)
Photo: © UNICEF/UNI173160/La Rose
Related links:
WHO-UNICEF Technical specifications and guidance for oxygen therapy devices
UNICEF Product Innovation Centre – Oxygen Therapy
WHO Technical specifications for oxygen concentrators
WHO Technical specifications for medical devices
December 2019