14 Feb

The first Global Forum on Childhood Pneumonia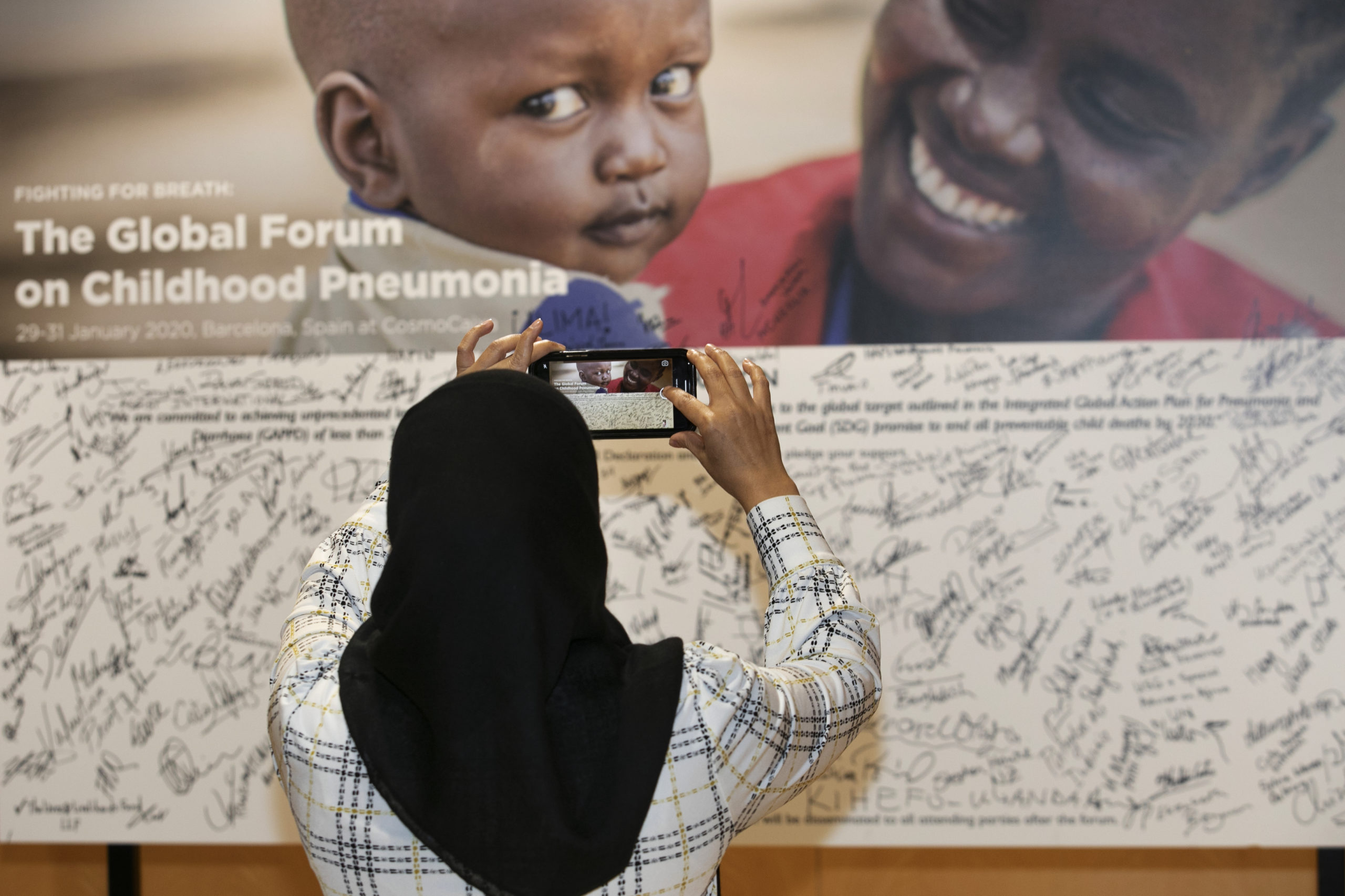 Pneumonia kills more children than any other disease, claiming the lives of more than 800,000 children under five every year – or one child every 39 seconds. Since it is the poorest and most vulnerable children that are at greatest risk, pneumonia is a marker of health inequities and multiple deprivations. Yet pneumonia remains a neglected disease – a "global cause without champions".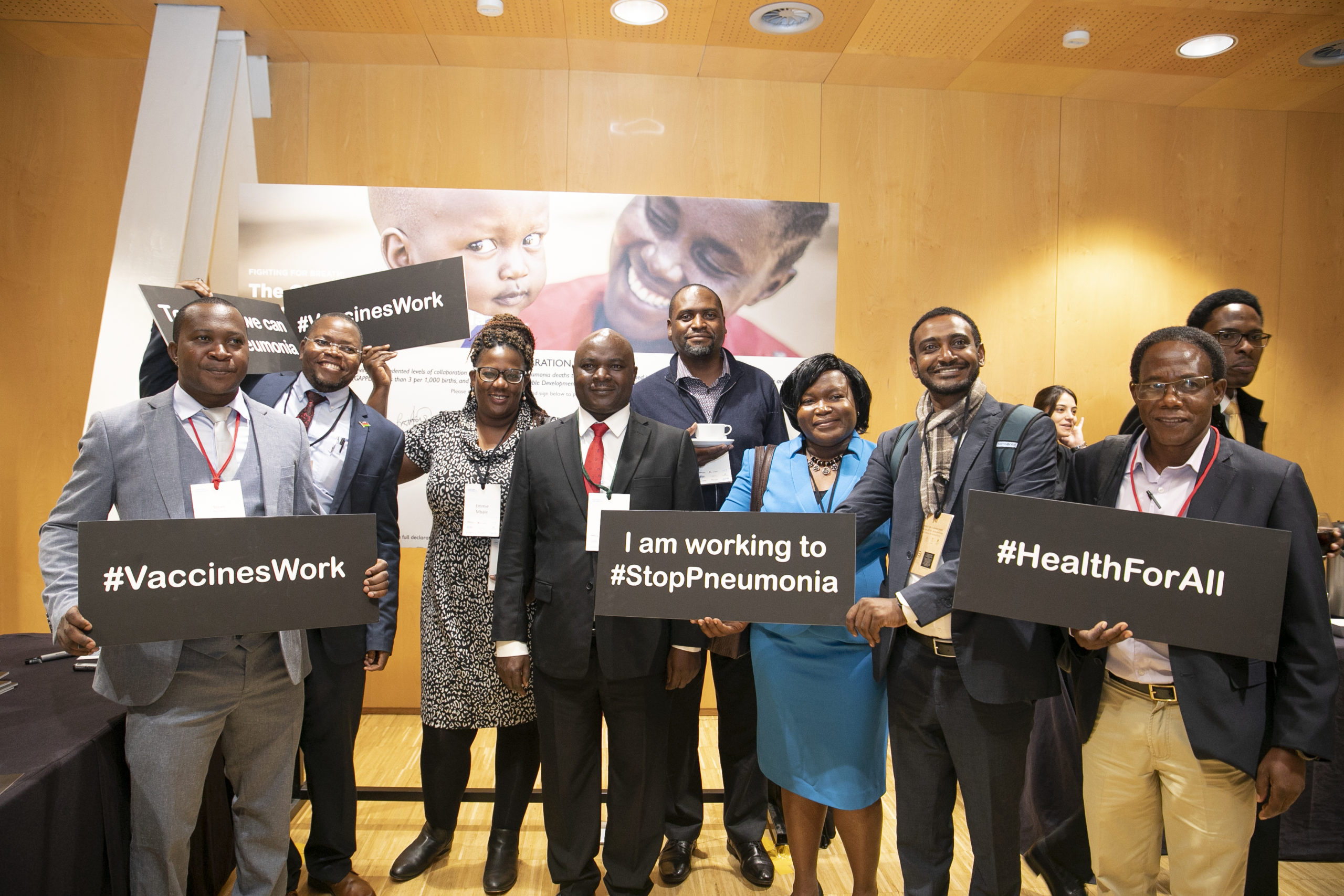 Who joined the fight?
The Global Forum brought together health ministers and government representatives from 23 countries; global health leaders; leading scientists and academics, international agencies, civil society actors, donors, business and youth activists for the first-ever Global Forum on Childhood Pneumonia, which took place in Barcelona at the end of January.
The goal: an action plan to combat the number one killer of children – pneumonia.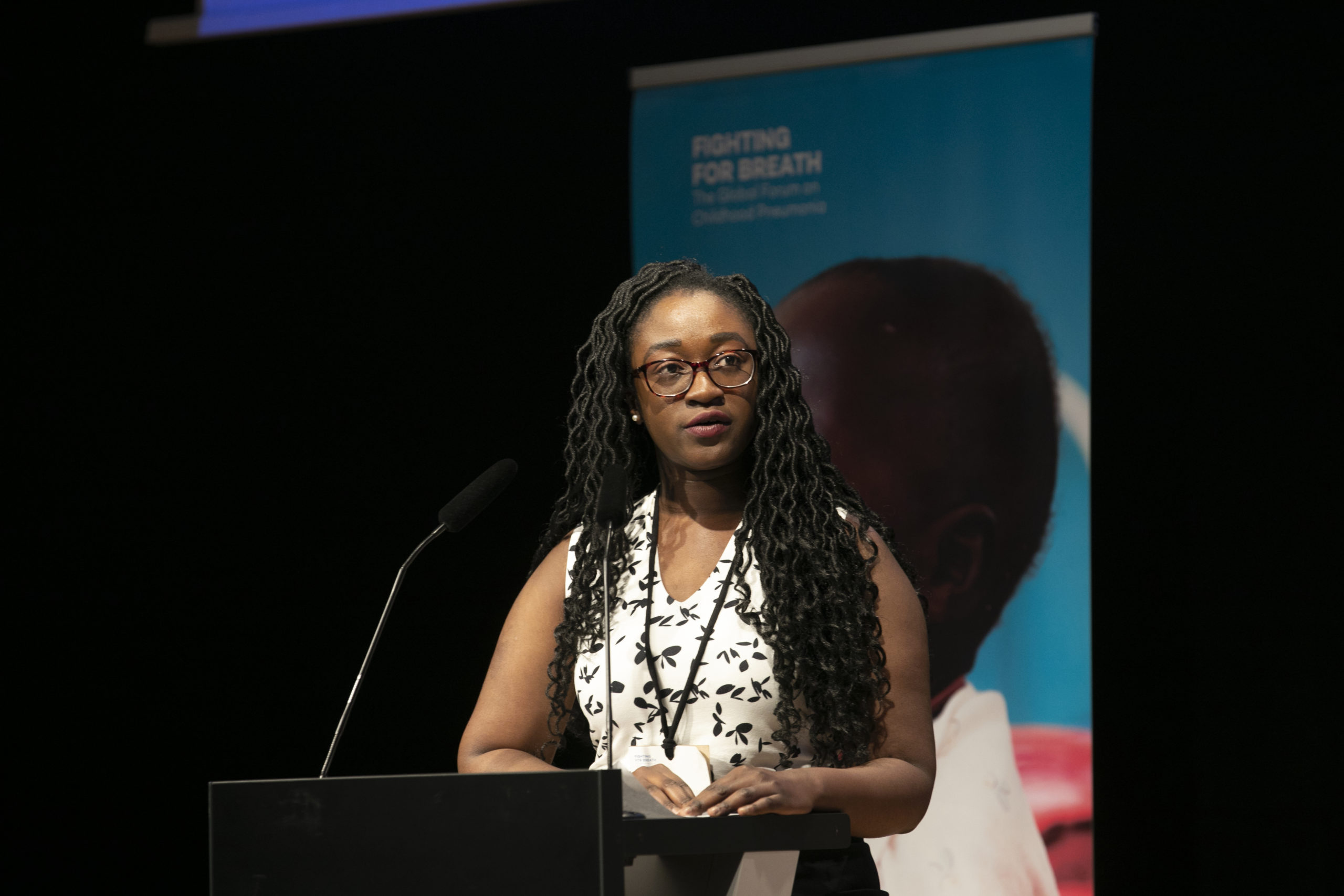 The road to 2030…
The conversations were inspiring. From a doctor in Uganda showing how a lung ultrasound can identify children with pneumonia; to the scientists leading cutting-edge research and innovation; to health advocates calling for integrated primary health care; to the 'disease ecologists' mapping the burden of childhood pneumonia; right through to the next generation of global health researchers.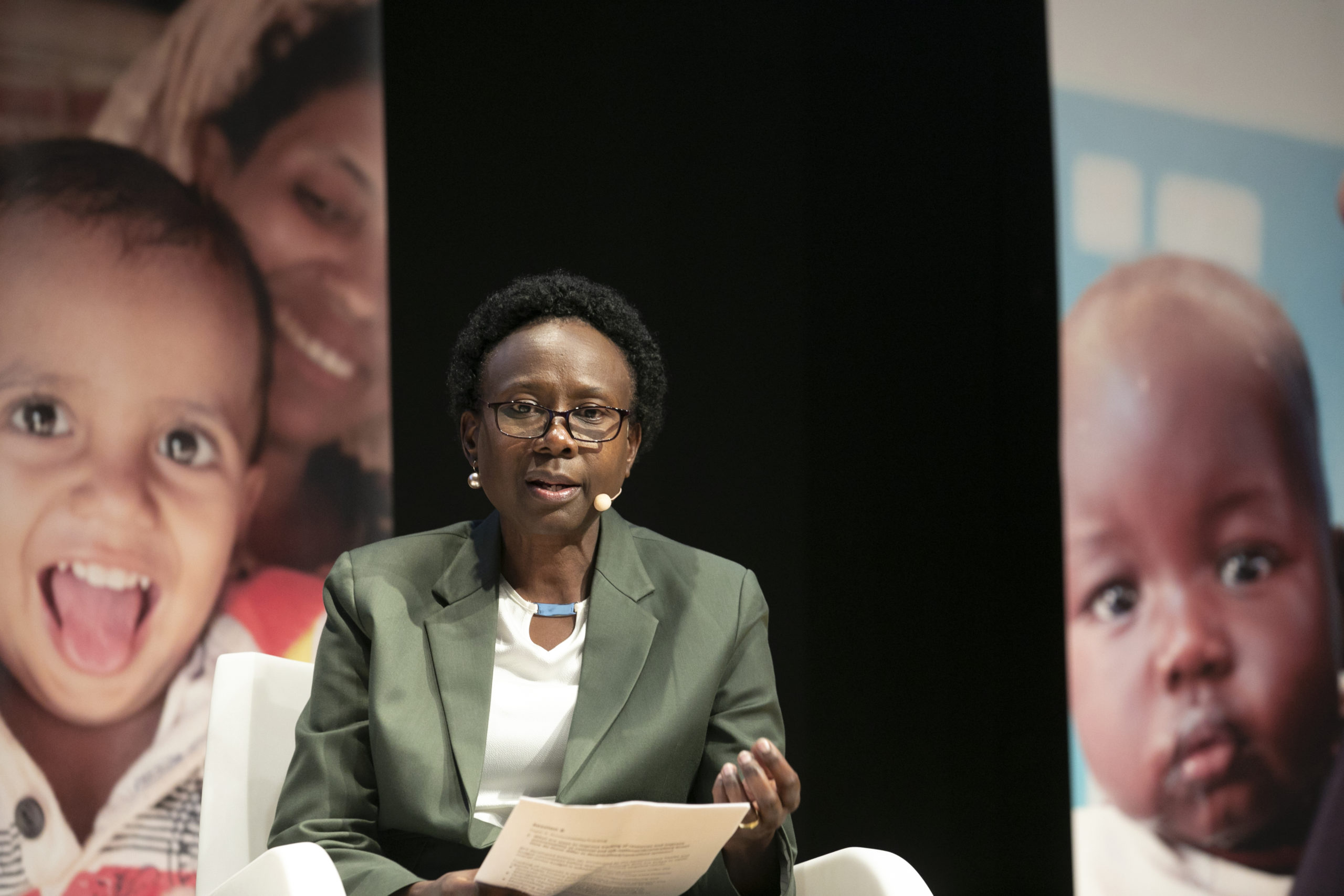 The governments
Many government ministers affirmed their commitment to ending pneumonia deaths as an essential component of achieving the child survival Sustainable Development Goal by 2030.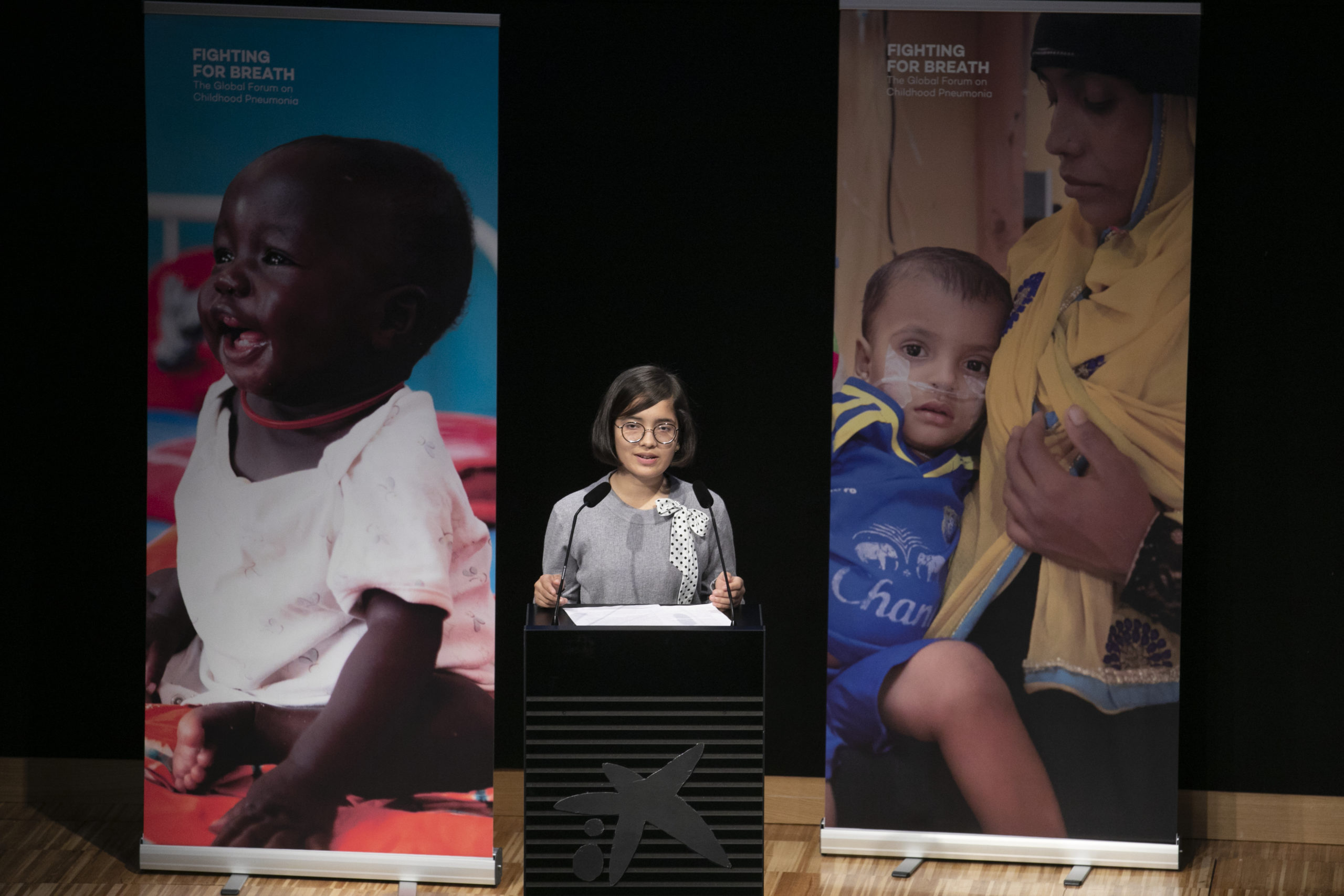 The young advocates
Young advocates, like 13-year-old Niruta, shared what it is like to battle pneumonia and survive in Nepal. While 13-year old Ridhima Pandey (pictured, right), a climate activist from India, asked participants to reflect on how important it is to breathe freely.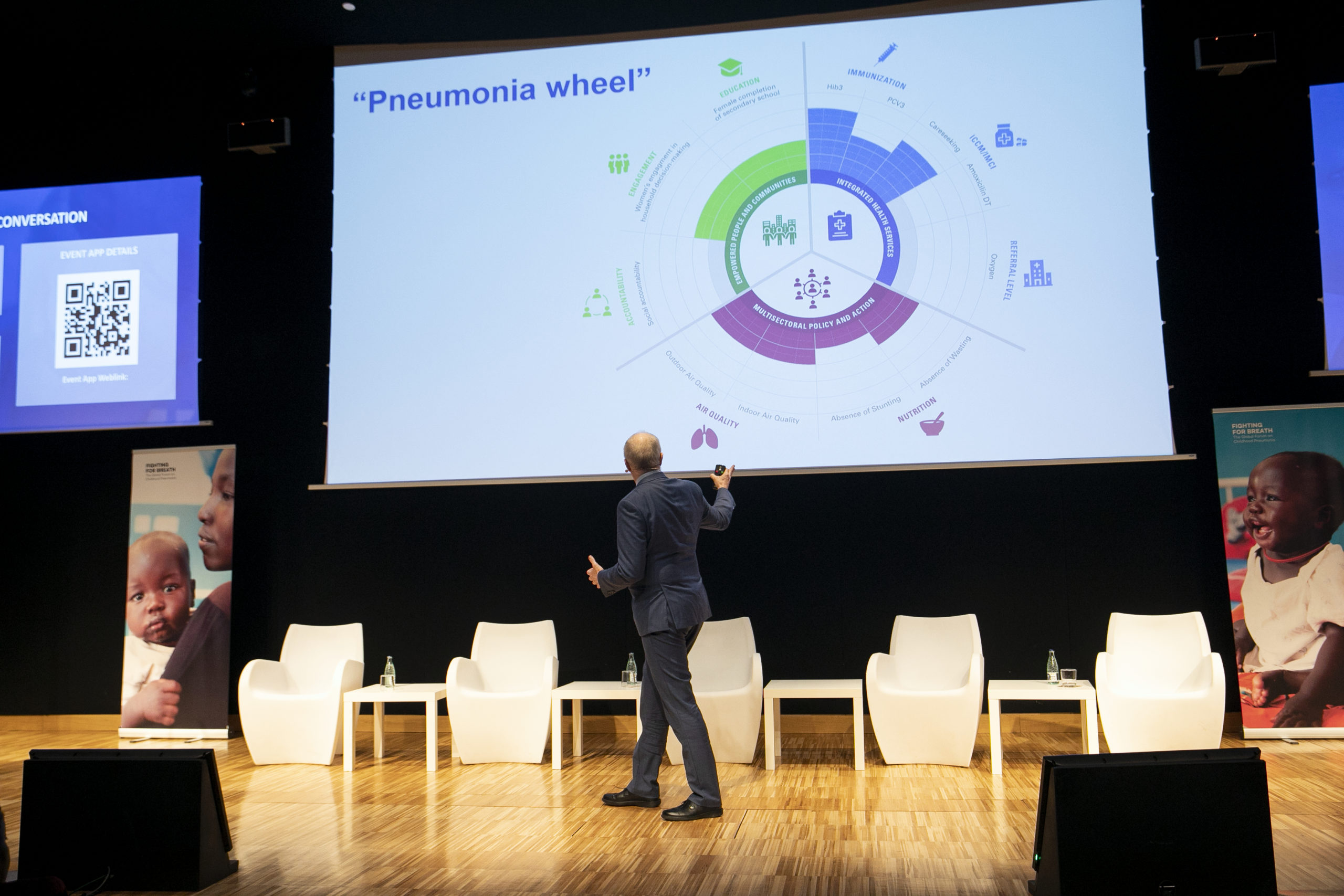 An Agenda to End Pneumonia Deaths
What was clear is that pneumonia cannot be treated in isolation. It is linked to a range of factors including poverty, malnutrition, air pollution, inequalities in healthcare, as well as children's rights and female literacy.
Stefan Peterson, UNICEF's Chief of Health (pictured left) presents The Pneumonia Wheel – with the three pillars of primary healthcare.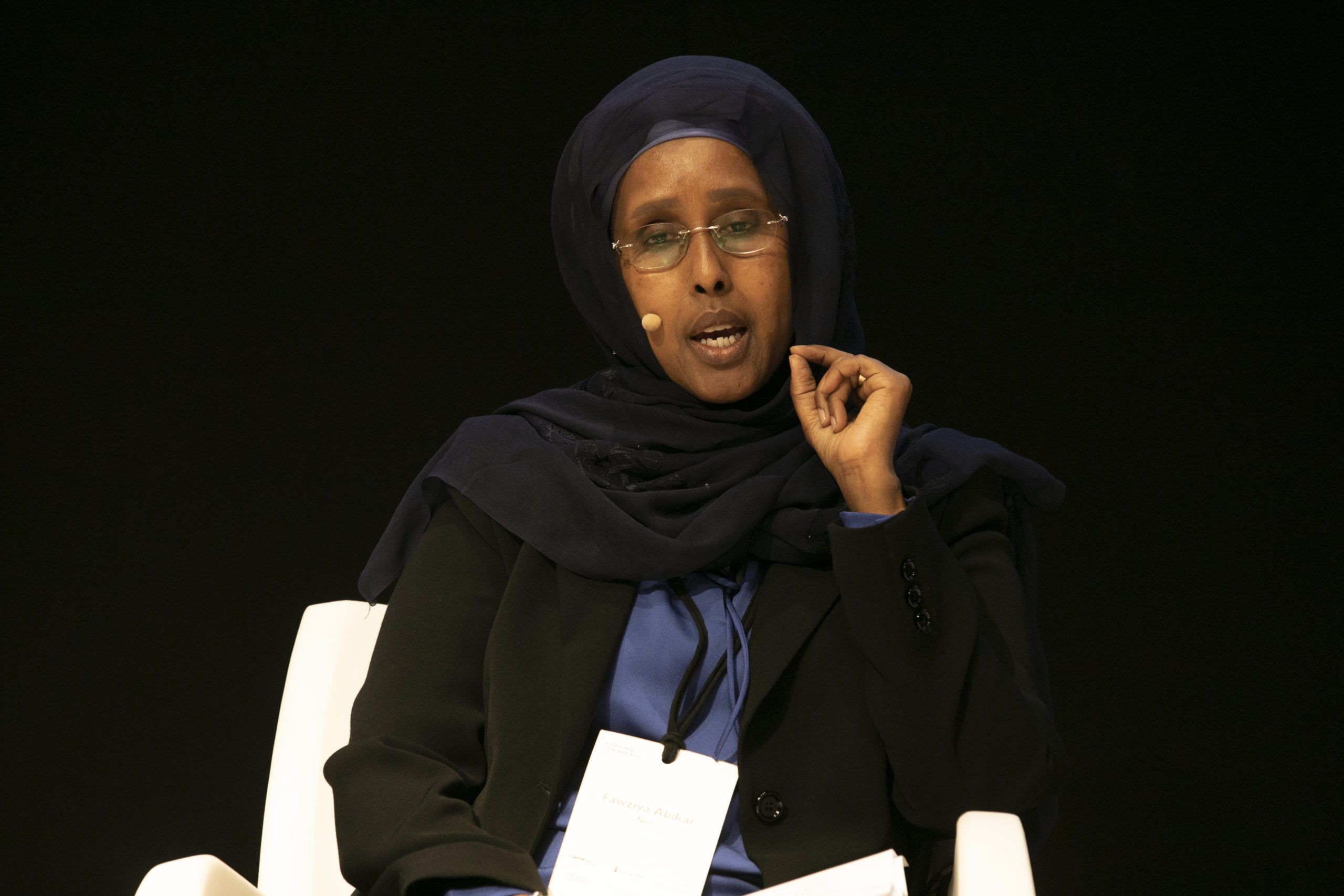 The Humanitarian Setting
The situation is worse in humanitarian settings where two-thirds of pneumonia child deaths occur – with children bearing the brunt of prolonged war, droughts, floods, and fragmented and disrupted health services. And these effects do not end when children arrive to a place of safety. A continuum of care is crucial.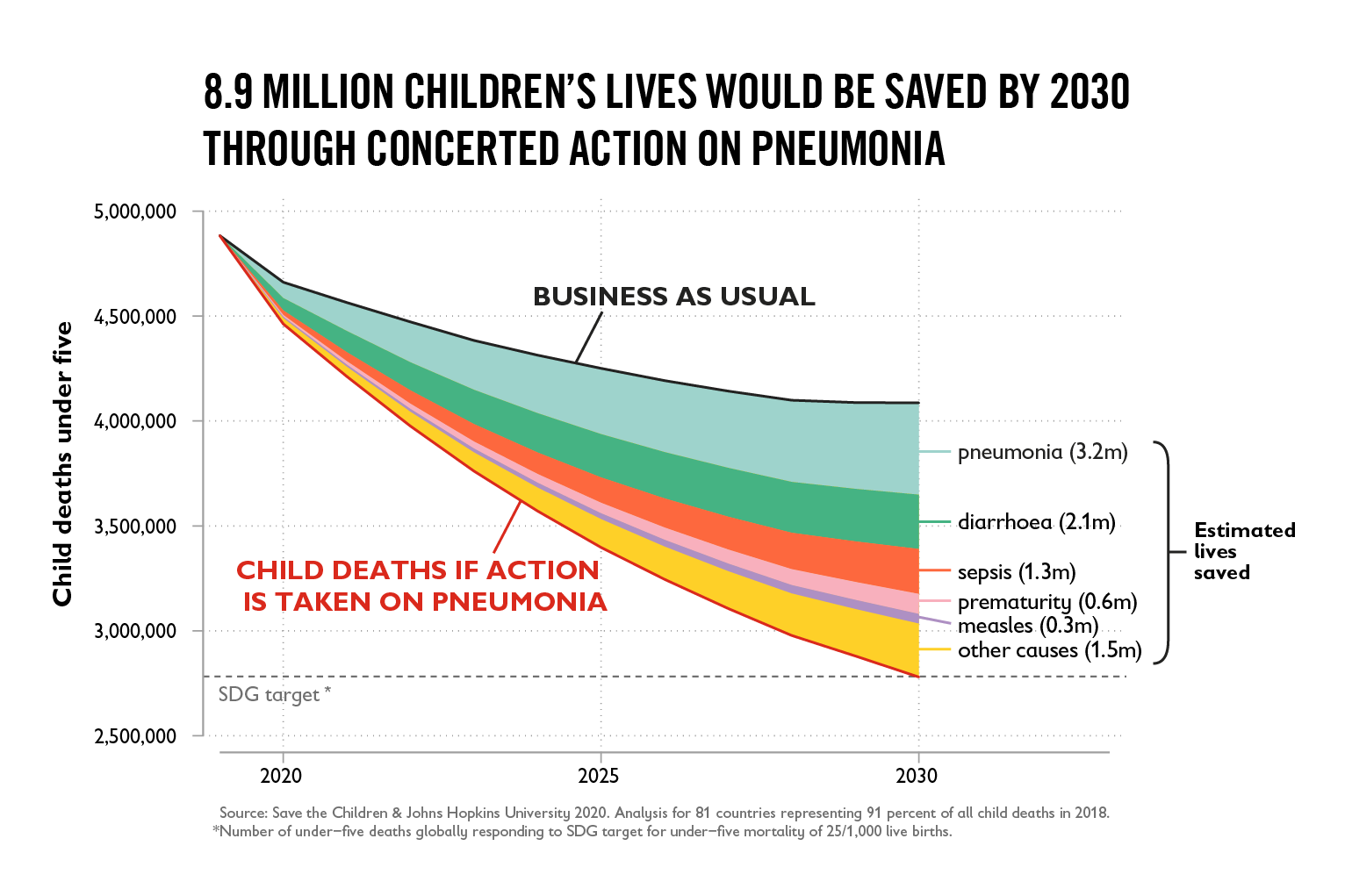 Integrated and equitable health services
Life-saving interventions – such as oxygen and antibiotics – can only be delivered through strong health systems and humanitarian response systems that reach the children in greatest need, and with access to trained health workers.
New modelling from Johns Hopkins University reinforces this point. Scaling up pneumonia treatment and prevention services over the next decade would not only prevent the deaths of 3.2 million children from pneumonia but could also prevent an additional 5.7 million child deaths from other diseases, including diarrhea, sepsis, measles, meningitis, and malaria. This pneumonia control "ripple effect" could ultimately avert nearly 9 million child deaths.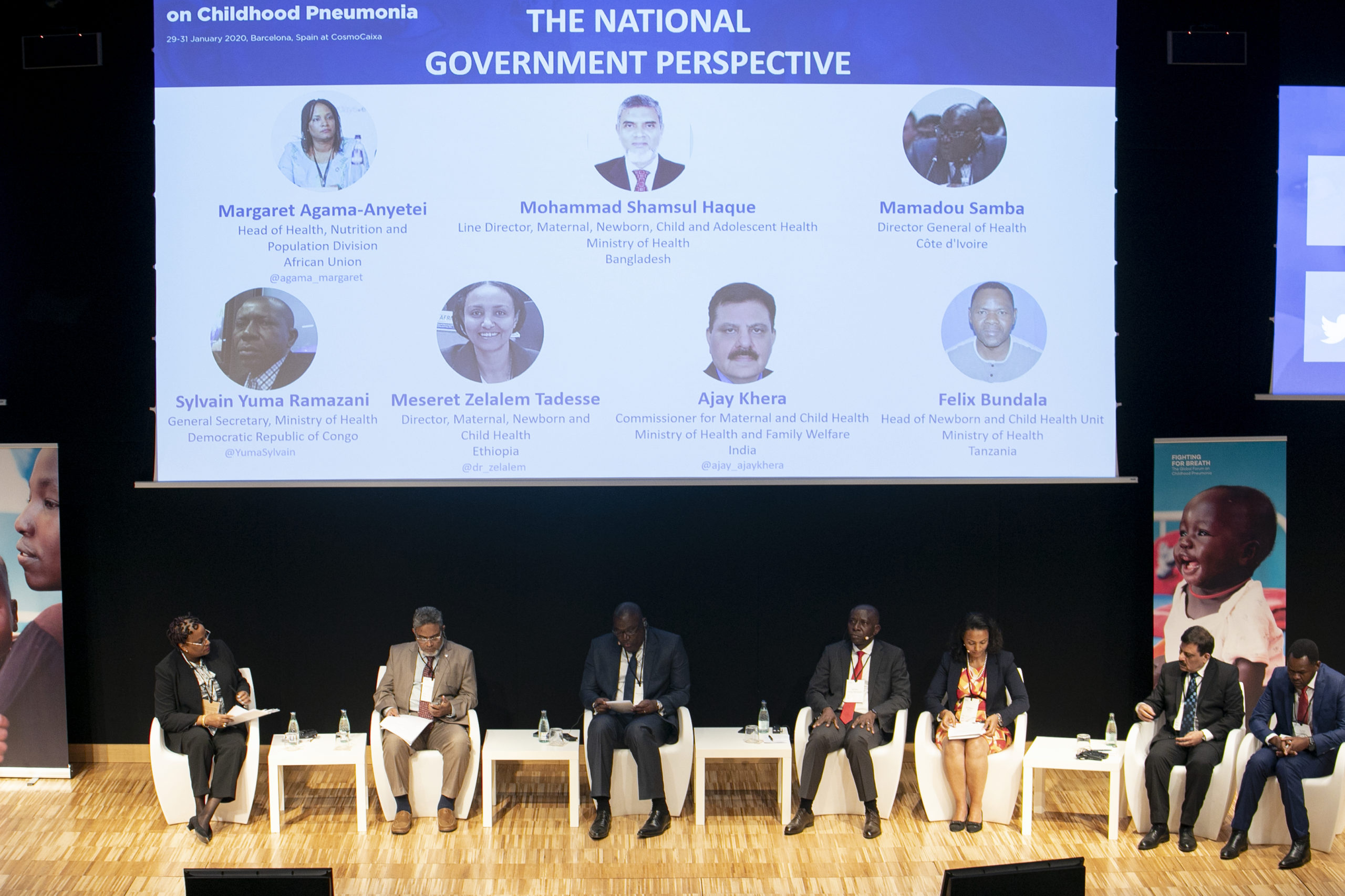 Solving the 'commodities crunch'
The Forum called for immediate action to solve the lack of pneumonia "commodities" in low- and middle-income countries such as diagnostic tools/pulse oximeters, medical oxygen and amoxicillin and ensure that they are made available in community health centres.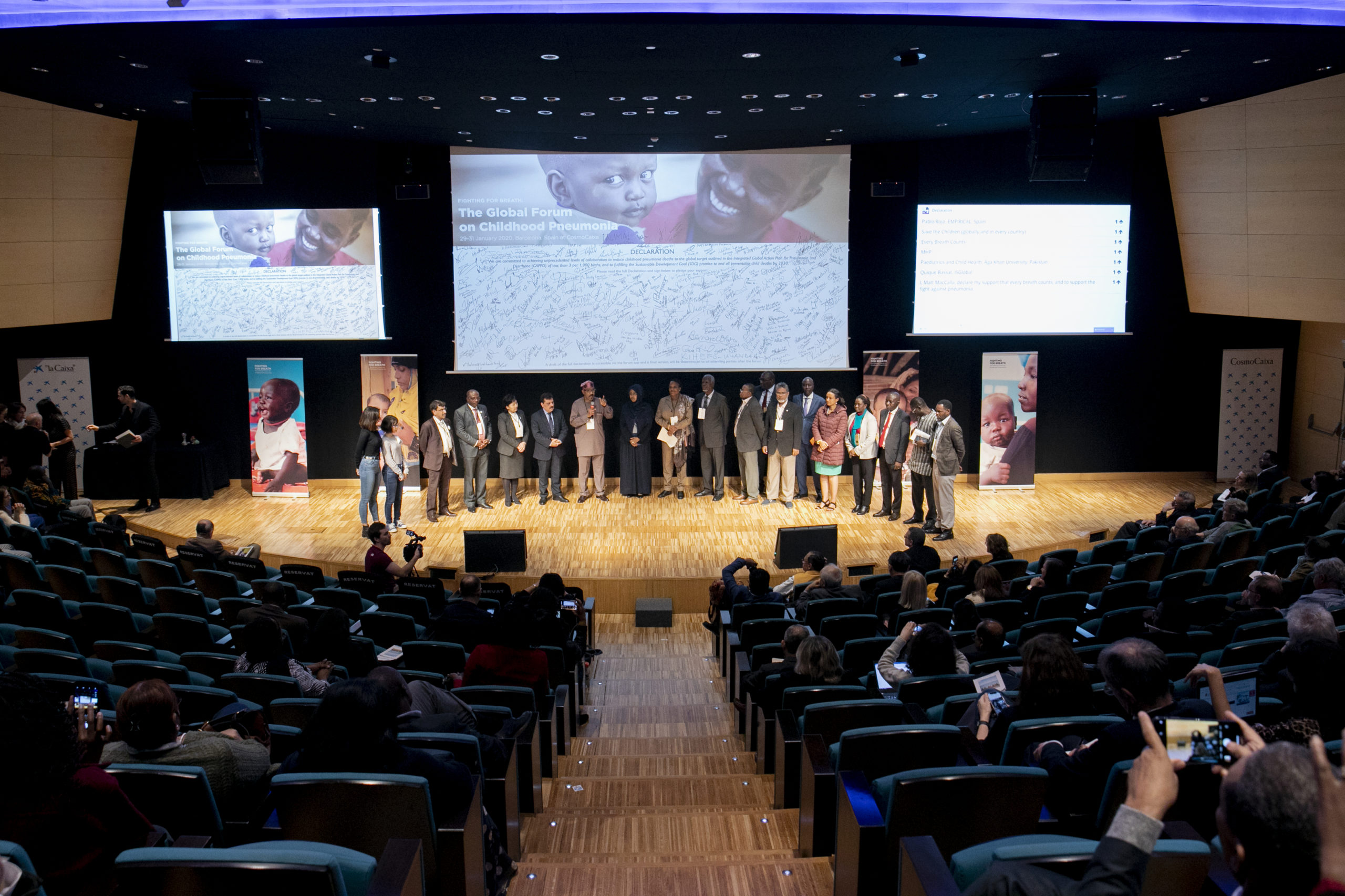 A game changer?
"Talk is cheap… WE MUST ACT. Together to prevent the deaths of our children from pneumonia. [We need] integrated approaches, better solutions, to hold ourselves accountable," delegates said in the closing ceremony.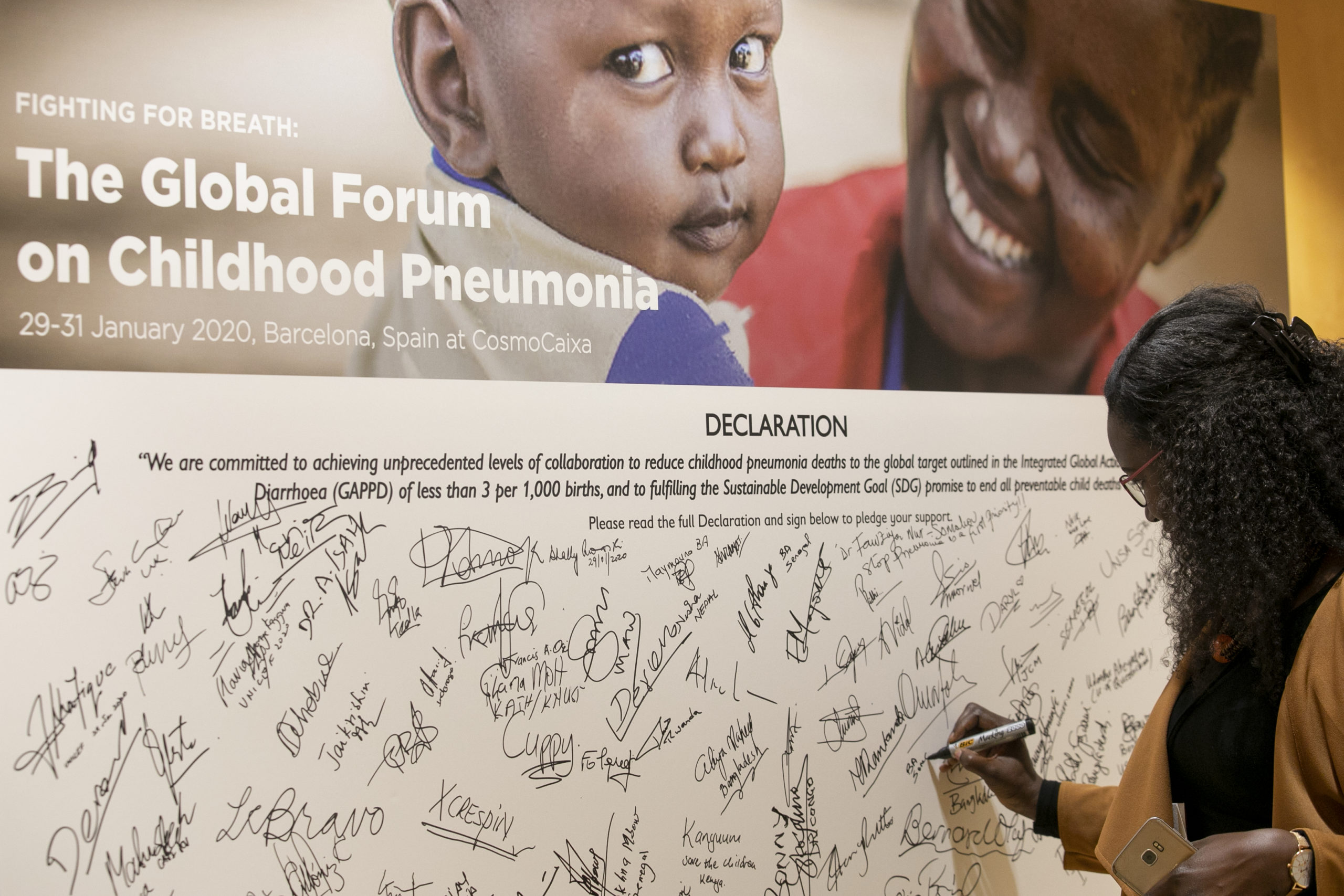 The Declaration
The Global Forum released a Declaration committing signatories to six specific actions to reduce child pneumonia deaths to less than 3 per 1,000 live births by 2030.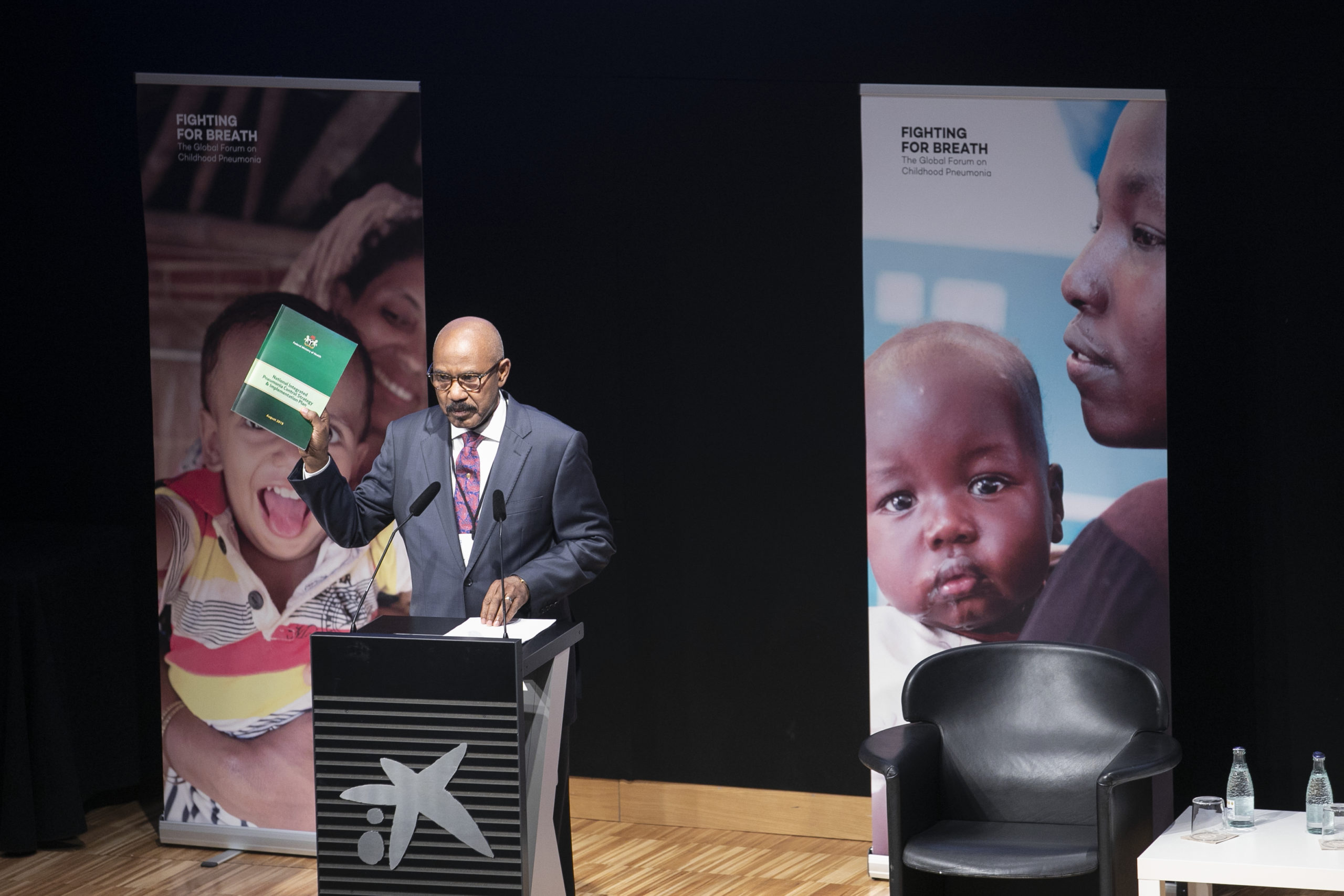 National strategies for pneumonia control
The Nigerian State Minister for Health unveiled the first national "Pneumonia Control Strategy" to reduce child pneumonia deaths to less than 3 per 1,000 births.
Other high-burden countries committed to developing national pneumonia control strategies delivered as part of integrated child health services.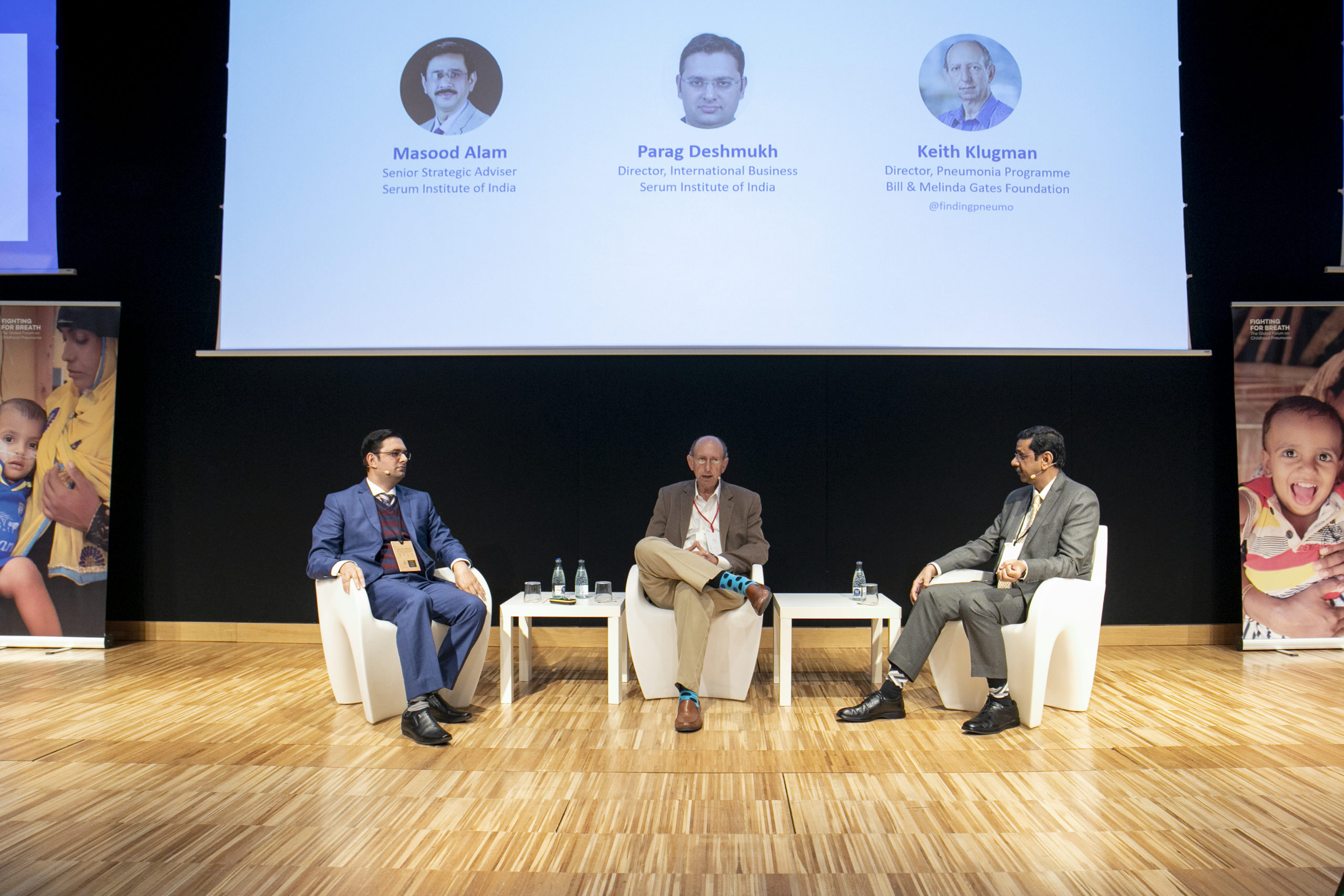 New pneumonia vaccine – a crucial step towards improving access and affordability
A new pneumonia vaccine PNEUMOSIL® produced by the Serum Institute of India will be made available to Gavi-eligible countries for a target of US$2 per dose.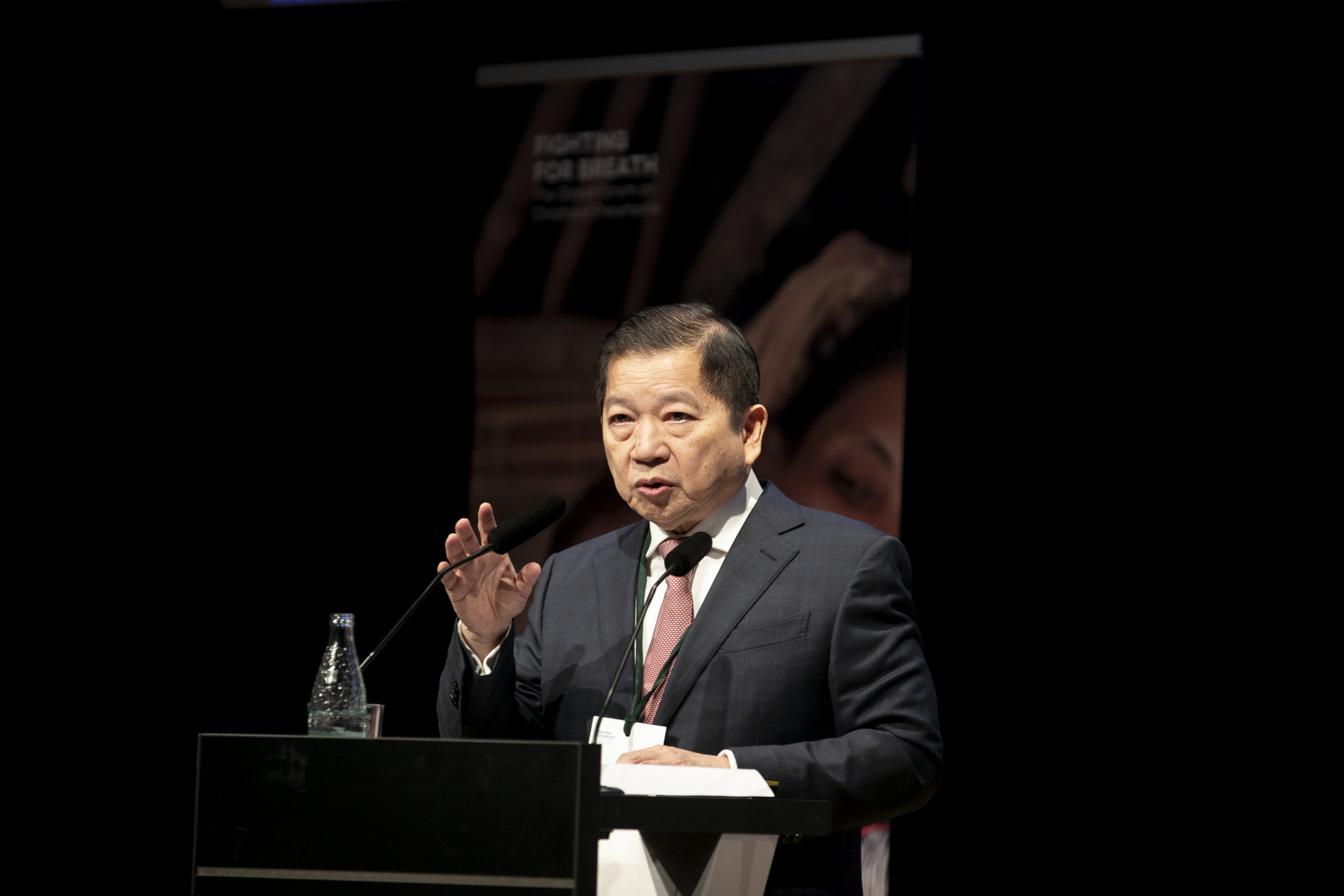 Indonesia to protect 4 million children a year against pneumonia
The Indonesian Minister for National Planning and Development (pictured left) announced the introduction of pneumococcal conjugate vaccine (PCV), financed through Gavi's Advanced Market Commitment (AMC).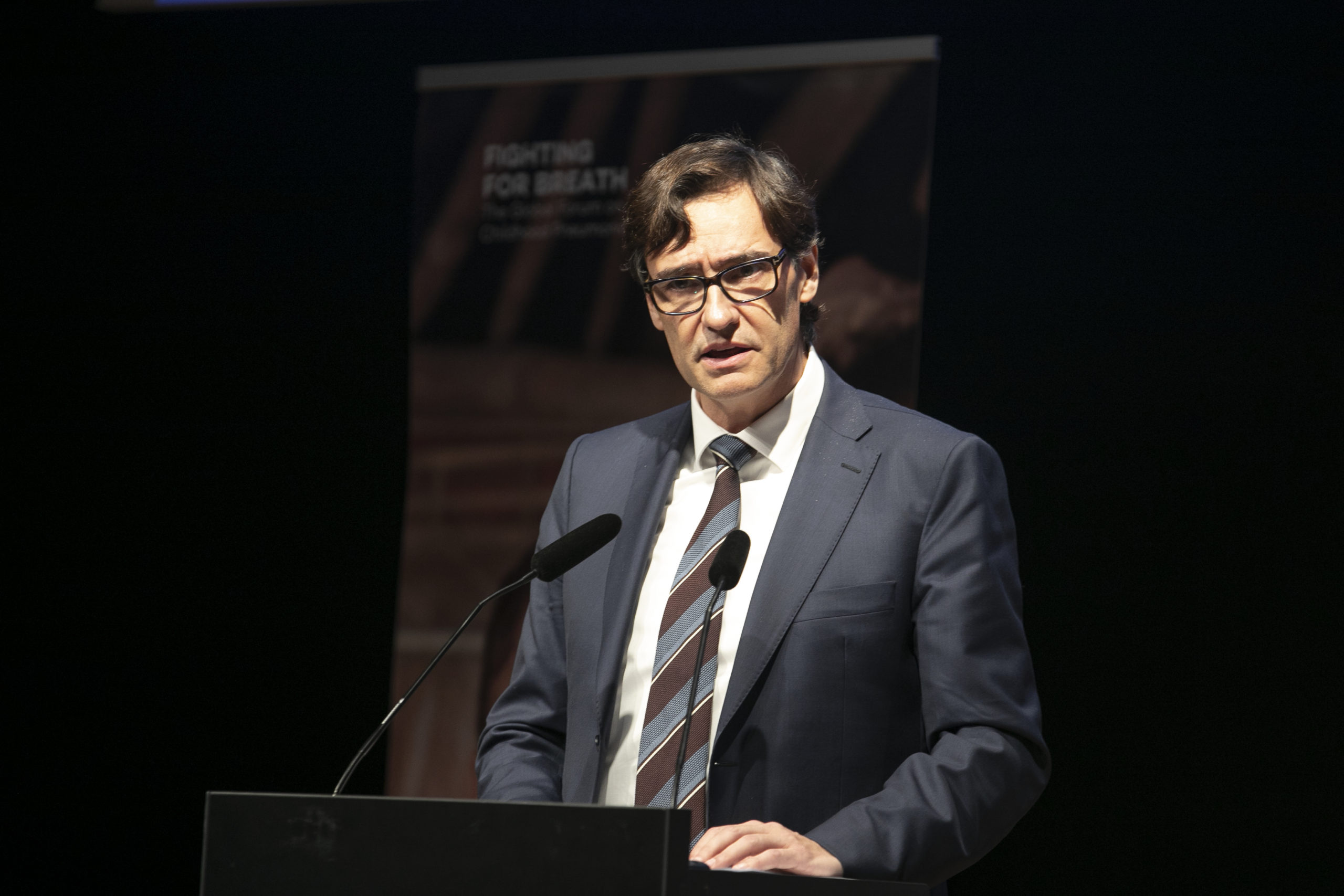 Donor government commitments
The Spanish Secretary of State for International Cooperation and for Latin America and the Caribbean, Juan Pablo de la Iglesia (pictured left), announced Spain's commitment to increasing Official Development Assistance (ODA) and more support to Gavi, the Vaccine Alliance in 2020.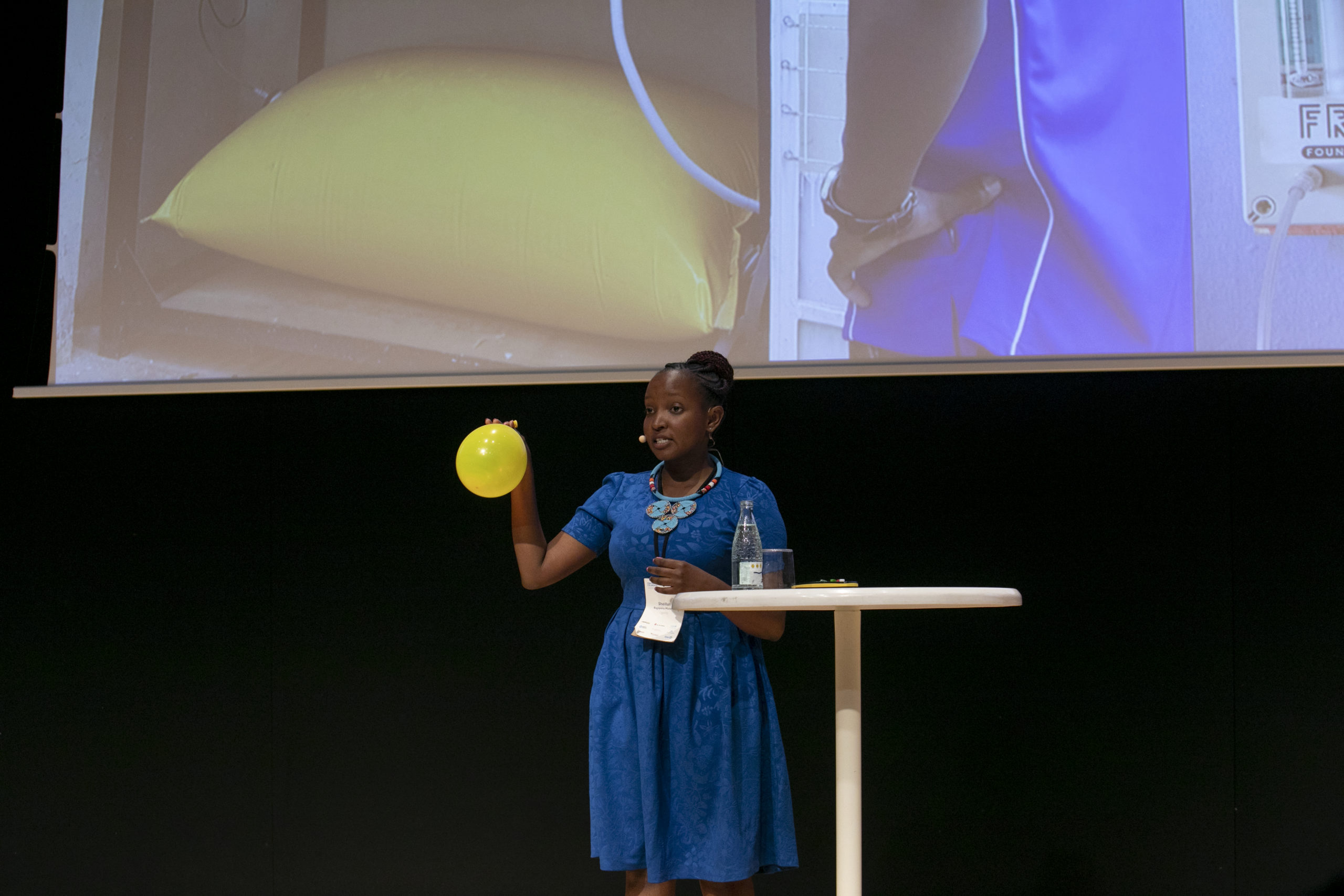 The Next Breakthroughs
Participants called for innovative new developments in childhood pneumonia diagnostics and treatment, in partnership with the private sector.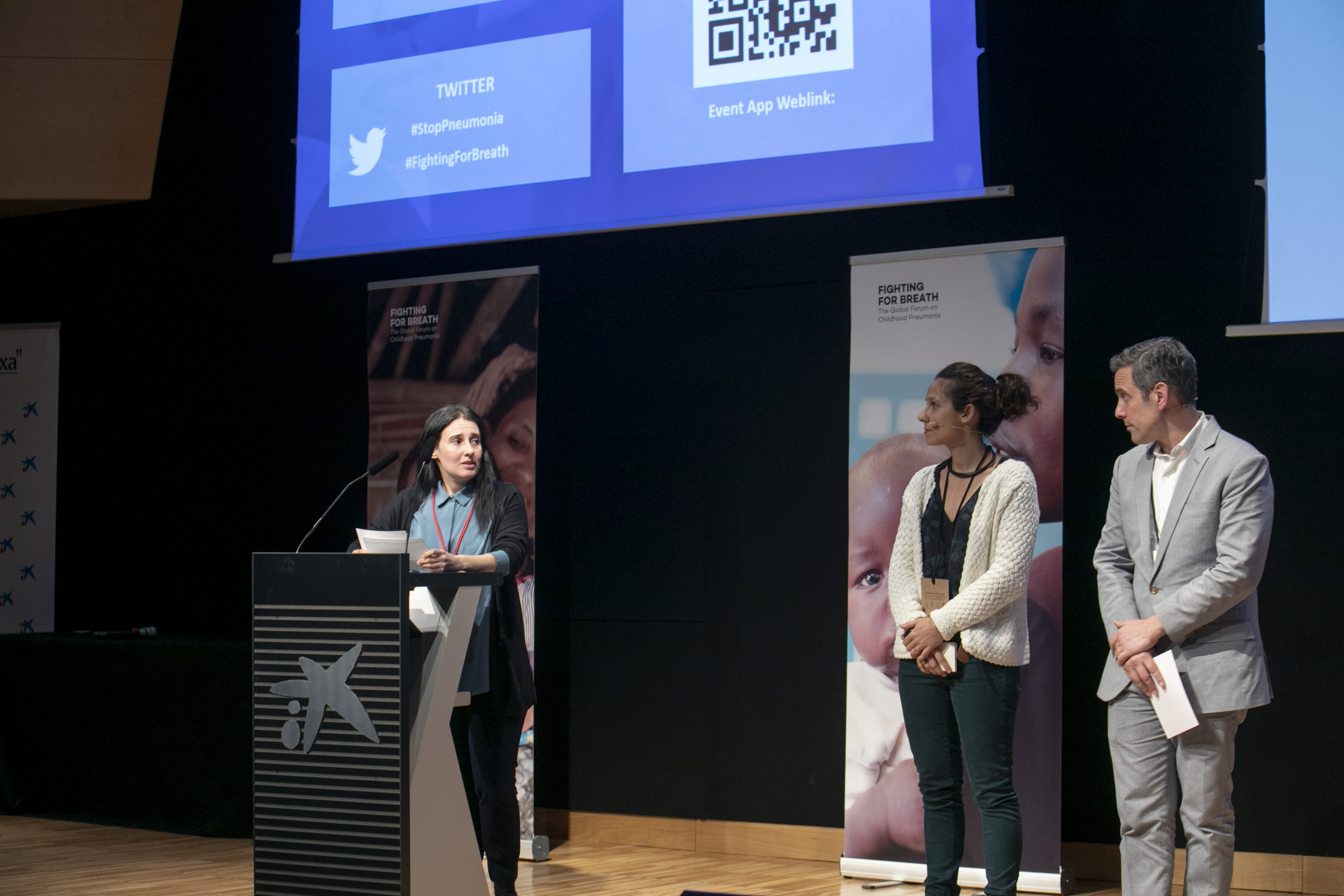 Improving access to critical tools
Unitaid announced a $US43 million investment to improve access to critical tools, such as pulse oximetry, across nine countries, in partnership with PATH and ALIMA.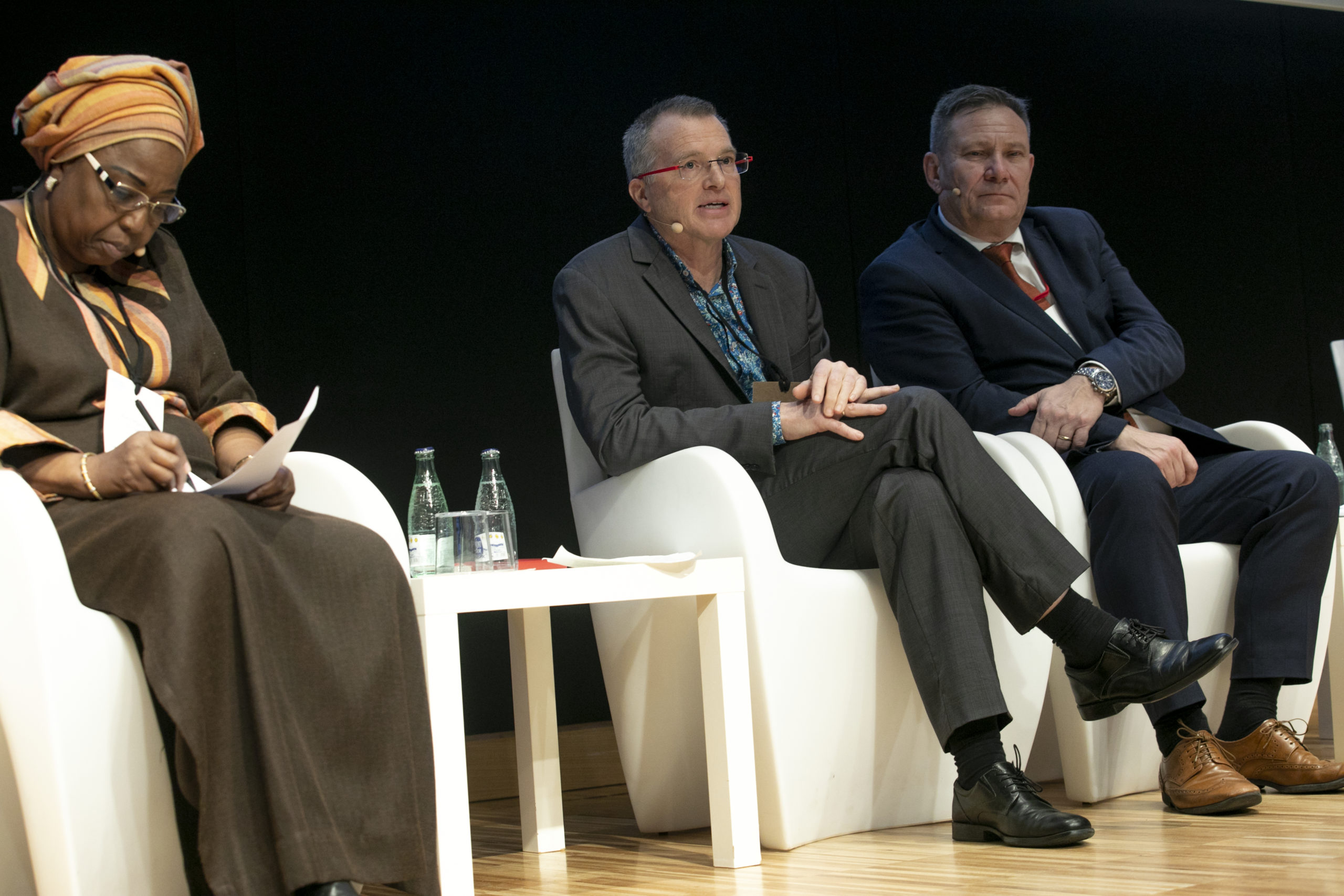 Financing non-malaria commodities
The Global Fund reconfirmed its support for integrated community case management and community systems-strengthening and encouraged national governments to include funding for non -malaria commodities (amoxicillin and ORS/Zinc) as part of their counterpart financing in Global Fund applications.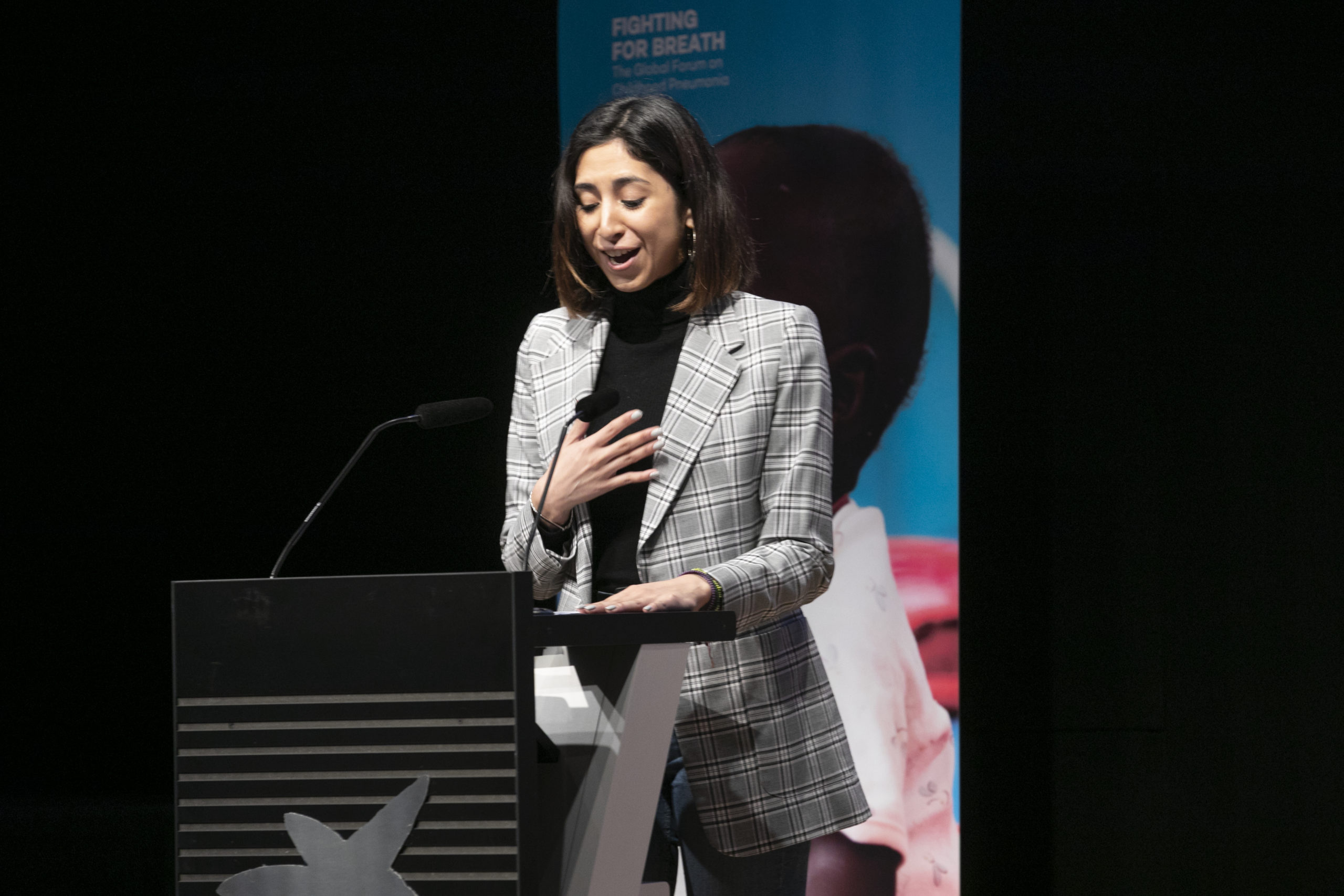 Youth activists demand action
The United Nations Student Association of Spain (UNSA) released the world's first Youth Call to Action on Pneumonia demanding action on pneumonia from world health leaders.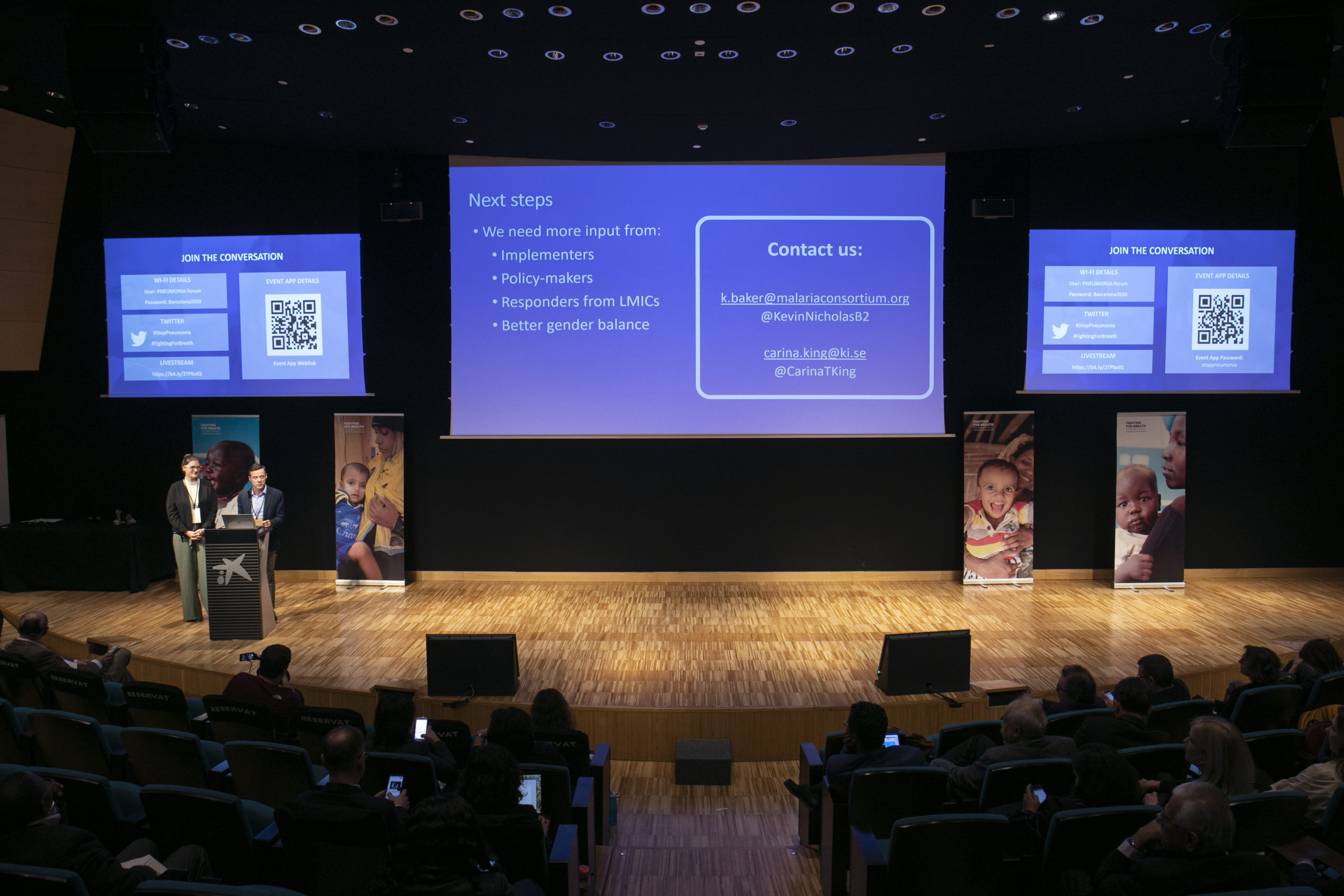 The Research Agenda
The Every Breath Counts Research Team announced the development of a set of priorities to ensure that the research agenda contributes to achievement of the GAPPD target over the next decade. There is an urgent need to increase pneumonia research funding as just 3% of infectious disease research funding goes to pneumonia.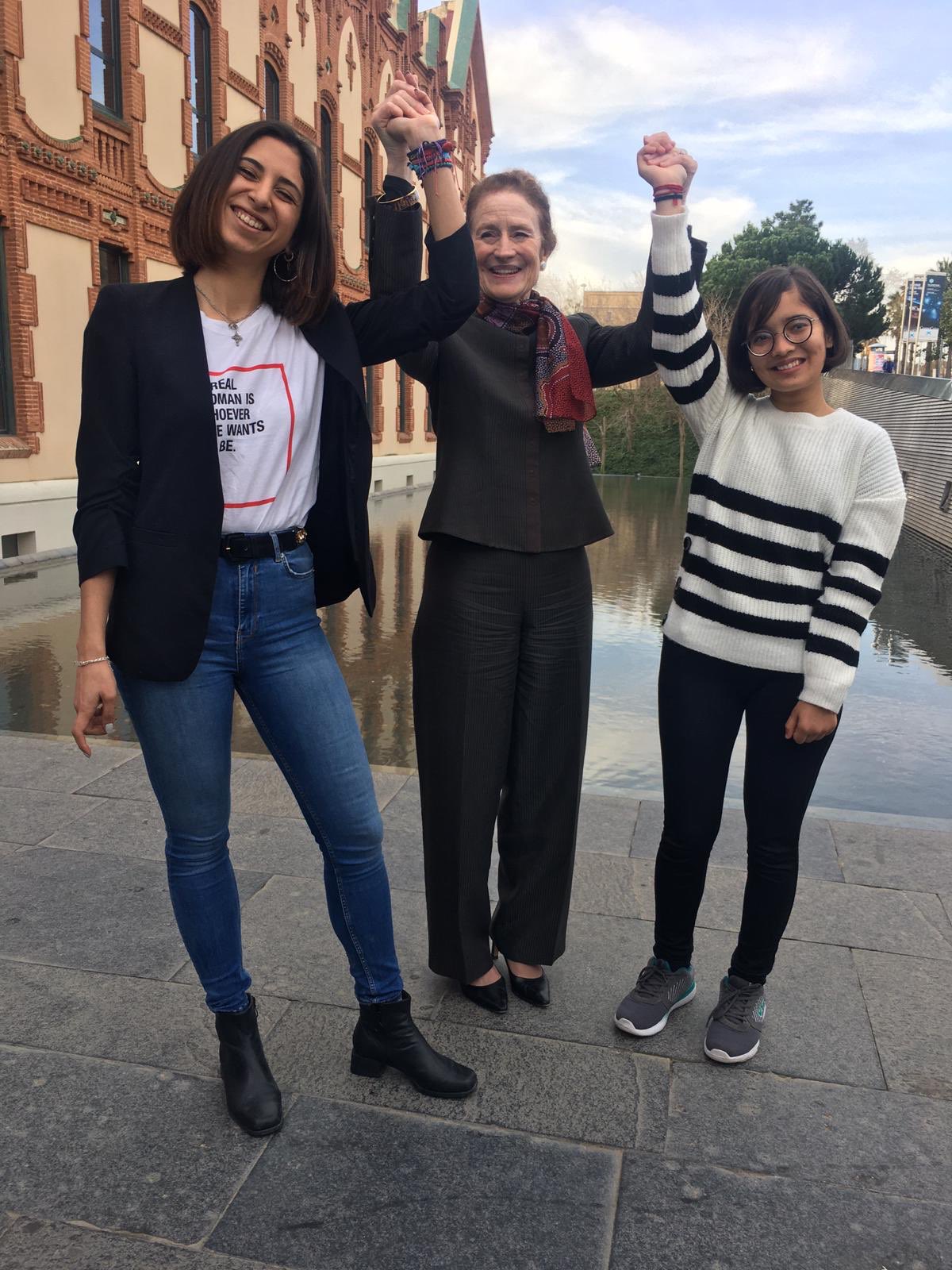 The Forum is a start of a partnership that makes a difference. That can save lives
We will only win the fight against pneumonia if we work in partnership. There are key opportunities where together we will ensure that these commitments will be translated into action to ensure that no child dies of preventable disease.
"…without a breakthrough on pneumonia, the 2030 goal of ending preventable child deaths will never be achieved".
Blog author: Androulla Kyrillou, Every Breath Counts Coalition
Photo credit: Myriam Maloni
February 2020