12 Nov

World Pneumonia Day 2015: Stronger than Ever, Six Years In

This post was originally published on the Huffington Post and is cross posted here with permission.
---
Over the course of my career, I've been more personally committed to eliminating pneumonia as a major killer of children. So in 2009, I was delighted to join a small group of like-minded experts, together with a passionate hedge fund manager, to shine a spotlight on this disease by launching the first-ever World Pneumonia Day.
The fact was (and remains) that pneumonia causes more child deaths than any other infectious disease, yet had little to show in the way of awareness or funding for prevention. With that first World Pneumonia Day, our goal was to generate awareness of the toll of the disease, which took the lives of more children annually than AIDS, malaria and measles combined. Now, after six years—and dozens of media conferences, celebrity endorsements, and marches on parliaments around the world—thousands of people have joined the fight.
Today, we are focused on generating action—encouraging countries to kick efforts into high gear by implementing proven solutions outlined in the Integrated Global Action Plan for Pneumonia and Diarrhea (GAPPD). Developed in 2013 by WHO and UNICEF, this plan sets out a common set of interventions to protect, prevent, and treat the two leading killers of young children.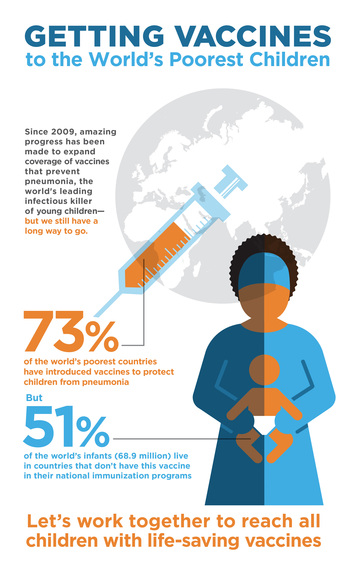 So, what are the critical next steps?
Preventing children from becoming ill in the first place is always the best way to protect them from the disease's consequences. Vaccines are one of the surest ways to prevent the spread of pneumonia. Thankfully, 132 countries have introduced a vaccine to protect against pneumonia. In fact, it was within months of the first World Pneumonia Day that the very first developing country—Rwanda—rolled out the pneumococcal vaccine with support from Gavi, the Vaccine Alliance. In addition, the world's 73 poorest countries have all introduced the pentavalent vaccine—which protects against Hib, another major cause of pneumonia—again with Gavi support. This is amazing progress in a relatively short timeframe. However, an estimated 51 percent of the world's infants live in countries or regions that have not yet introduced the pneumococcal vaccines into their National Immunization Program. Getting vaccines to these children must be a top priority for all involved—Gavi, governments and industry.
The growth in vaccine introductions is helping us make serious headway in the battle against pneumonia. What's also remarkable is that new surveillance studies are establishing just how greatly vaccines are contributing to reductions in pneumonia cases. At the Kenya Medical Research Institute, researchers found that within six months of introducing the pneumococcal vaccine, two-thirds fewer people—vaccinated and unvaccinated—carried strains of the bacteria targeted by the vaccine.
Moving forward, it is critical that the drive to develop newer, more effective pneumococcal vaccines at affordable, sustainable prices continues and that pneumococcal vaccines are introduced in all poor countries—especially high-burden countries like India. In countries that already have the vaccine, routine immunization programs should be strengthened to ensure all children are reached.
From a protection standpoint, breastfeeding, adequate nutrition and supplements like Vitamin A supplementation pack a significant punch. Many children who don't survive pneumonia die because they are malnourished when they contract the infection and they weakened bodies are not strong enough to maintain the heavy breaths needed to draw in the oxygen they desperately need. Improved nutrition not only offers protection against pneumonia, but also against severe diarrhea, and helps improve other positive health and cognitive outcomes.
Treatment forms the third piece of the GAPPD trifecta. Because as many as half of early childhood pneumonia deaths result from not being rapidly diagnosed or treated the scale-up of existing interventions is essential. Some cases of pneumonia can be treated effectively and inexpensively with antibiotics, but medicines must be readily available and more regularly prescribed for children with pneumonia-like symptoms in developing countries. Similarly, giving oxygen is extraordinarily effective at saving pneumonia patients, but many health centers do not have a reliable equipment. Oxygen concentrators and devices that measure oxygen levels in the blood are needed in versions better suited for diverse conditions.
It is also imperative that parents and caregivers understand the importance of bringing children with pneumonia symptoms to a health care provider as quickly as possible. By increasing access to medicines, other treatments, and working with communities to understand the risks, we can help many more children survive and thrive.
Because a variety of germs can cause pneumonia, an evolving, diverse counter-attack that promotes protection, prevention and treatment is required to keep children safe. Thanks to efforts like World Pneumonia Day, more people are aware of and engaged in this fight than ever—and each year brings increasingly resourceful and innovative solutions to this problem. I am committed to working until one World Pneumonia Day in the not-too-distant future when we'll be able to report that this "silent killer" no longer occupies the terrible title of 'top killer of children'.
To learn how you can help support efforts to reach more children with life-saving vaccines, visit here.
---
About the Author: Dr. Orin Levine –  Director of Vaccine Delivery, Bill & Melinda Gates Foundation