15 Oct

An Urban Poor Minority Community Leads Fight Against Childhood Pneumonia
Organization: Swaasthya
Location: Malegaon, India
Event: An Urban Poor Minority Community Leads Fight Against Childhood Pneumonia
For the past five years, the small grant awardee Swaasthya has led a maternal and newborn health initiative in the slums of Malegaon, a small sized city in the state of Maharashtra, India. During the course of their work, they noticed delays in community members reporting to a health care provider when babies came down with pneumonia.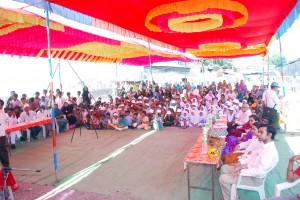 Swaasthya decided to address this problem for World Pneumonia Day 2011. On November 12, the organization held a rally featuring storytelling about children's struggles with pneumonia and other presentations on the disease. Over 450 people attended, including parents, teachers, children, medical professionals, and community leaders.
In response to Swaasthya's advocacy efforts, a government official announced a new initiative that would provide pneumonia care 24 hours a day in local hospitals in Malegaon.