15 Dec

UNITED STATES: Organizations call for action through symposiums, technical reports, and commentaries

Article posted on December 15, 2016.

Gates Foundation urges continued focus on pneumonia and funding that's proportional to the burden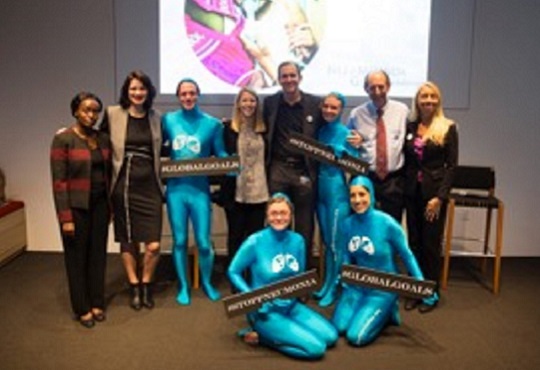 This story is part of the 2016 round-up of World Pneumonia Day. Events and campaigns were held in many countries around the world to remind policymakers that pneumonia is still a silent killer taking the lives of many young children. Child health advocates and members of the Global Coalition Against Child Pneumonia organized various advocacy strategies to shine light on the need to continue the fight to bring an end to this disease.
In the United States, members of the Global Coalition Against Child Pneumonia held World Pneumonia Day events from coast to coast. Conversations carried a common message: pneumonia needs to stay in the spotlight if the world wants to defeat it.
The Bill & Melinda Gates Foundation reinforced their commitment to fighting pneumonia during a November 10 event at their Seattle, Washington headquarters. The Gates Foundation provides resources, expertise, research, and services to tackle global challenges in hunger, poverty, health, and education. Staff sat alongside colleagues from partner organizations, including the Clinton Health Access Initiative, Global Citizen, Speak Up Africa, UNICEF, and the International Vaccine Access Center.
Participants heard from key leaders including Director of Pneumonia Keith Klugman, who outlined the key areas that the Gates Foundation will continue to focus on:
Promoting delivery of currently available vaccines to prevent pneumonia and meningitis, and monitor their impact
Funding the development of lower cost vaccines for the developing world
Finding new ways to identify and treat the most vulnerable children at risk for death from pneumonia
Preventing infection in young infants by vaccinating pregnant women
Klugman also showed how global funding is not proportional to the childhood burden of pneumonia.
A panel of experts built upon the discussion, including Save the Children President and CEO Carolyn Miles.
"We're grateful to the Bill & Melinda Gates Foundation for bringing together the organizations, partners, and clinicians who are working every day to ensure children are properly diagnosed and treated," said Miles. "This is our call to action—to save the lives of children who are dying needlessly."
Save the Children, an organization dedicated to investing in childhood through fundraising and global programs, answered the call by launching a fundraising initiative that will continue year-round. Donations we will be used to develop programs that protect, prevent, and treat pneumonia in children worldwide; support research and influence policy regarding pneumonia; and save countless young lives from a preventable disease.
Seventh annual Pneumonia and Diarrhea Progress Report shows more innovation and political will needed to implement known strategies
In Baltimore, Maryland, the release of IVAC's 2016 Pneumonia and Diarrhea Progress Report: Reaching Goals Through Action and Innovation was celebrated at the Johns Hopkins Bloomberg School of Public Health. This event informed current and future public health professionals about the progress of pneumonia and diarrhea prevention in various countries around the world.
The annual report, by the International Vaccine Access Center (IVAC), evaluates the progress in implementing high-impact interventions among the 15 countries with the greatest number of under-5 pneumonia and diarrhea deaths. Experts presented key findings and identified innovations in pneumonia disease management that may accelerate the pace of progress.
They emphasized, however, that interventions to lower child death toll from pneumonia and diarrhea need advocacy and political will.
The report underlines IVAC's mission to accelerate equitable and sustainable access to vaccines through the generation, synthesis, and use of evidence to inform decision making and action.
For full coverage of the event, please see: "Calls to Action on World Pneumonia Day"
Following the lecture, the Child Health Society at the Bloomberg School co-hosted a reception to increase awareness among students, faculty, and staff on the burden of childhood pneumonia. They lent their voices to advocacy by accepting the Pneumonia Fumbler Challenge, which asked people to say the following tongue twister five times fast for the under-fives: Pretty please prevent pneumonia to protect precious lives.
For videos, please see: "Thanks for Speaking Up Against Pneumonia"
Pneumonia garners attention in far-reaching CDC report & health experts worldwide tasked to improve case management at major conference
In Atlanta, Georgia, at the Centers for Disease Control and Prevention (CDC), both World Pneumonia Day and the 2016 Progress Report release were announced in the far-reaching Morbidity and Mortality Weekly Report. While large screens around the CDC campus played a loop of informational videos on pneumonia, Epidemic Intelligence Service Officers from the Respiratory Disease branch stood ready to share information and increase awareness among their colleagues. The CDC is the government agency in the United States focused on public health efforts.
Atlanta also saw a Pneumonia Symposium hosted by the Malaria Consortium, a NGO that uses evidence-based practices to prevent, control, and treat malaria and other infectious diseases. The objective of the Pneumonia Symposium was to share learning and enhance understanding among experts of how to improve pneumonia case management in resource poor settings, based on a number of innovative studies recently conducted. The event took place on November 15, 2016, within the larger 65th Annual Symposium of the American Society of Tropical Medicine and Hygiene (ASTMH).
To learn more about the full agenda, please visit this event page.