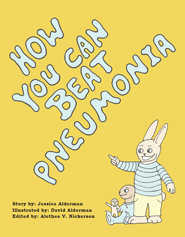 We want children to enjoy reading, learning and coloring with their parents or caretakers, and hope this fun resource will engage children and their families around the world in learning about pneumonia and the ways it can be prevented. We encourage the use of this resource – in schools, in clinics or even in your own home – and best of all, it's free!
About The Book
To commemorate World Pneumonia Day 2010, members of the JB Grant International Health Society and the International Vaccine Access Center (IVAC) at the Johns Hopkins University Bloomberg School of Public Health (JHSPH) co-sponsored a contest for university students to design an educational coloring book about pneumonia last year. Jessica and David Alderman produced the winning entry, which was chosen by IVAC faculty members.
The sister and brother team worked with IVAC over the course of several months to create the coloring book. Tips for parents and caretakers were included at the end of the story. The book was then reviewed by child health experts from around the globe. Mary Bowman-Kruhm, a children's book author, blogger and teacher at the Johns Hopkins School of Education, also contributed to the development of the book. In a post on her blog, children's author Ana Maria Rodriguez writes about the coloring book!
Translations
The book is now available in multiple languages!
About the Authors
Jessica Alderman received her Master's in Public Health from JHSPH with a focus in Health Communication. As a professional photographer and healthcare advocate she has been working to bring better forms of visual communication to the field of public health. Her brother, David Alderman is currently studying philosophy and art at Connecticut College. He is a long-time illustrator and graphic designer and was excited by the opportunity to be involved in creating a children's book promoting pneumonia awareness.