Produced by the International Vaccine Access Center (IVAC) at The Johns Hopkins University Bloomberg School of Public Health.
2015 Pneumonia and Diarrhea Progress Report
Click here to access the full report.
2014 Pneumonia & Diarrhea Progress Report
According to the latest estimates child mortality estimates published in 2014, that pneumonia continues to be the number one infectious killer of children around the world – causing 15% of all child mortality in 2013.  The majority of pneumonia cases are both preventable and treatable.
The 2014 Pneumonia and Diarrhea Progress Report is IVAC's fifth annual progress report and second IVAC progress report to assess pneumonia and diarrhea interventions as an integrated approach. The progress report evaluates the 15 countries with the highest number of child deaths from pneumonia and diarrhea and reports on their progress in implementing evidence-based interventions that are outlined in the Global Action Plan for the Prevention and Control of Pneumonia and Diarrhea (GAPPD). The report examines data on several key pneumonia and diarrhea interventions – including exclusive breastfeeding, vaccination against five vaccines that protect against pneumonia and diarrhea (pertussis, measles, Hib, pneumococcal, and rotavirus vaccines), and access to treatment (care by a health care provider, antibiotics, oral rehydration salts, and supplemental zinc).
Previous Pneumonia Progress Reports
Download the complete 2013 Pneumonia and Diarrhea Progress Report (PDF).
Download the complete 2012 Pneumonia Progress Report (PDF).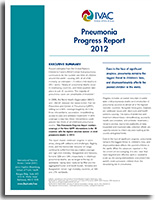 View the 2011 Pneumonia Progress Report (PDF). An animated version (Prezi) of the 2011 Pneumonia Progress Report is also available.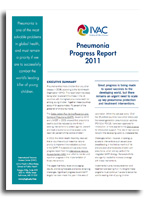 View the 2010 Pneumonia Report Card (PDF) here.