09 Nov

Join the Pneumonia Fighters on November 12!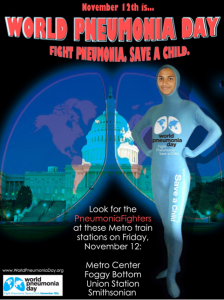 On November 12th, a team of PneumoniaFighters!, dressed in blue 'superhero-style' costumes, will take to the streets of Washington, D.C. and appear at strategic locations around the city handing out PneumoniaGrams addressed to the President of the United States. DC area residents, tourists, and families representing various constituencies throughout the US will be encouraged to send PneumoniaGrams to the President.
This event will be featured on the World Pneumonia Day website and images will be available on other social media sites. For further information about this campaign or if you would like a PneumoniaFighters! to be part of the activities your organization is planning, please contact info@worldpneumoniaday.org.