15 Oct

Improving Community Response for Pneumonia Prevention and Management
Organization: Afro Global Alliance
Location: Cape Coast, Ghana
Event: Improving Community Response for Pneumonia Prevention and Management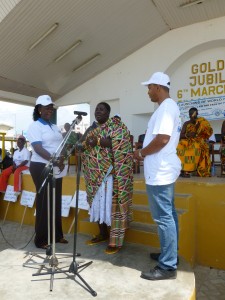 The Afro Global Alliance (AGA), together with its partners, the Ghana Health Service, Ministry of Women and Children Affairs, Stop TB Partnership Ghana, and key members of the media, hosted events for 32 traditional leaders and 40 community health volunteers.
The advocacy workshop taught chiefs, queen mothers, and other community leaders about pneumonia in an effort to raise local capacity to advocate for health policy. Community health volunteers participated in a training seminar on pneumonia messaging, prevention, and care.
Grant awardee AGA celebrated progress against pneumonia with a parade in Cape Coast, where government officials appealed to the private sector and international organizations to purchase vaccines and continue to support awareness events about the disease's severe toll in the country.
The Afro Global Alliance now stands positioned to deliver this message throughout the country.