15 Oct

I Faced Pneumonia!
Organization: KEMRI/Wellcome Trust Research Programme
Location: Nairobi, Kenya
Event: I Faced Pneumonia!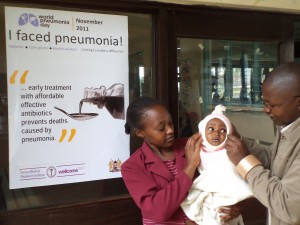 Small grant awardee, the Kenya Medical Research Institute (KEMRI)/Wellcome Trust Research Programme, hosted six awareness events at hospitals across Kenya for World Pneumonia Day 2011. Their event, titled "I Faced Pneumonia," focused on former and current patients, caregivers, health care workers, and policy makers.
The events aimed to improve outcomes of pneumonia case management at hospitals by:
1) Providing case management guidelines to health care workers.
2) Opening a dialogue with decision-makers about barriers to effective case management.
3) Sharing information on symptom recognition and prevention with the community.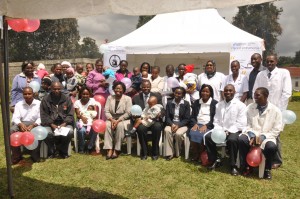 Together, caretakers and health workers outlined specific priorities that need to be addressed to improve pneumonia case management. These messages were written into postcards and a petition targeted at decision-makers at multiple levels of Kenya's health care system.
The day's events culminated in the signing of the petition and requesting that Ministers of Health and Finance increase government investment for interventions known to reduce the burden of pneumonia.