15 Oct

Film: Liberian Children Fight Against Pneumonia
Organization: Save the Children, Liberia
Location: Monrovia, Liberia
Event: Film: Liberian Children Fight Against Pneumonia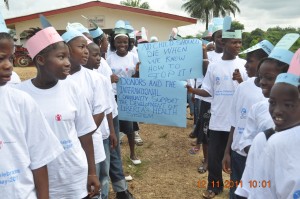 Save the Children, Liberia marked World Pneumonia Day by shooting a video documentary featuring mothers of children who died from pneumonia and interviews with local health care workers regarding the importance of pneumonia prevention. Copies of the documentary were given to the Minister of Health and key legislators.
The Liberia Children's Parliament was invited to host a national radio discussion on pneumonia's impact on the country. At the conclusion of the radio program, the children read a list of policy recommendations directed at national and county health officials and encouraged community members and leaders to sign the Save the Children petition to address pneumonia in Liberia.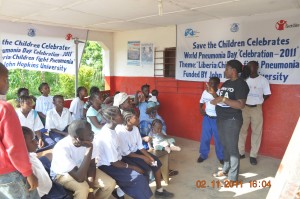 Trainings were also held in three different counties to teach members of the Children's Parliament basic messages about pneumonia. These children then distributed fliers with prevention and treatment information to spread awareness within their communities. Over 1,000 people participated in these events.
The Government of Liberia reiterated its commitment to train, equip, and support more health workers to reach every child with vaccines.