15 Oct

Festival: Stand Up and Act Against Pneumonia
Organization: Safe Womanhood
Location: Nairobi, Kenya
Event: Festival: Stand Up and Act Against Pneumonia
For World Pneumonia Day 2011, the Safe Womanhood Organization (SWO) held a large-scale pneumonia awareness event for Somali and Oromo refugees living in Nairobi. These refugees, who often do not speak the languages of their host country, English or Swahili, have limited access to publicly available information and little interaction with neighboring communities.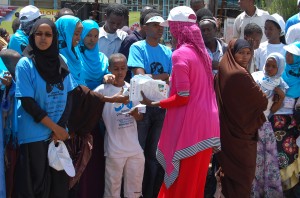 The goal of this event was to deliver important messages concerning pneumonia symptoms, prevention methods, and treatment options to this population. Activities included medical examinations for 350 children, 25 community education sessions, three formal workshops for Somali and Oromo health care workers and journalists, and cultural performances about pneumonia.
The day culminated with the launch of an educational song covering pneumonia prevention and treatment, produced in both Somali and Oromo languages.