13 Nov

Could smartphones, thermal images or ultrasound save children from pneumonia?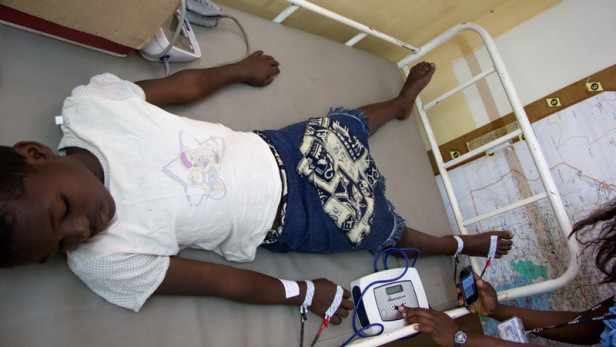 How can innovative technology be used to save the lives of children at high risk of death from pneumonia? Photo by: Bill & Melinda Gates Foundation
During the past decade, smartphones have transformed the way we live. I can call, text or video chat my daughter from anywhere in the world at a moment's notice, and I can access limitless information on my mobile browser whether I'm in Seattle or Johannesburg. Although phone calls at dinner may not be ideal, phone technology could soon be used to save the lives of children at high risk of death from pneumonia.
Astoundingly, pneumonia continues to be the No. 1 infectious killer of children under the age of 5 worldwide — more than HIV, tuberculosis and malaria combined. This year alone, an estimated 5.9 million children around the world died before reaching their fifth birthday. In 2013, a child died from pneumonia every 35 seconds.
One of the key challenges the global health community faces is quickly and accurately diagnosing children who are at risk for pneumonia death and then rapidly starting them on the appropriate treatment. Symptoms can initially appear as routine — fever, intense coughing and chills. But pneumonia is anything but an everyday illness — it causes fluid to fill the lungs and disrupt oxygen absorption. Breathing becomes very difficult, especially for young, malnourished children. The biggest injustice is that we have lifesaving interventions to prevent and treat pneumonia, but they are not reaching the children in greatest need.
To help address some of these issues, the Bill & Melinda Gates Foundation requested applications through our Grand Challenges Explorations initiative to anyone, from any discipline, anywhere in the world, with an innovative idea to reduce childhood pneumonia deaths. Within this call we looked specifically for innovative ideas to help identify bacterial and nonbacterial causes of pneumonia, and field-friendly, simple-to-use tools for assessment of malnutrition status in the sick child.
New ways of approaching diagnostics and treatment are critical to preventing, detecting and treating pneumonia. In truth, people of any age, in any country, are at risk of contracting pneumonia, but 99 percent of all childhood deaths from pneumonia occur in the developing world.
On this World Pneumonia Day, I am proud to announce new grants to 10 scientists working on nine projects in seven countries to test out-of-the-box ideas to improve pneumonia detection.
Through novel ideas, smart science and diligence, we hope that all of these ideas will someday mature into tools that health care providers across the world can use to rapidly diagnose pneumonia and prevent death.
At the same time, countries, donors and other partners must stay committed to preventing childhood pneumonia in developing countries by increasing access to existing vaccines, promoting amoxicillin and oxygen use, exploring new opportunities like maternal immunization, and encouraging breast-feeding and hand-washing.
We are fortunate to have multiple ways to prevent, detect and treat pneumonia — and the influx of new innovations will help us reach even more children with lifesaving interventions. While we celebrate today's new grants to pursue new ideas, let's also honor past accomplishments by ensuring they reach every child in need.
To read additional content on innovation, go to Focus On: Innovation in partnership with Philips.
---
About the author
Keith Klugman– Keith Klugman is director for pneumonia at the Bill & Melinda Gates Foundation, where he leads efforts to improve the development and delivery of pneumonia vaccines and expand the use of antibiotic treatments and diagnostic tools. An expert on antibiotic resistance in pneumonia pathogens and helped develop the pneumococcal vaccine, Klugman has long academic experience and has also worked for the World Health Organization and the U.S. Centers for Disease Control and Prevention.