24 Jun

How Somalia used WHO's COVID-19 Biomedical Equipment Inventory Tool to increase oxygen access

Dr Shajib Hossain from the WHO office in Somalia describes how the country has used the WHO's COVID-19 Biomedical Equipment Inventory Tool for designated COVID-19 treatment facilities. The data generated was used to procure oxygen and related respiratory therapies in ways that will strengthen the Somali health system for the long term.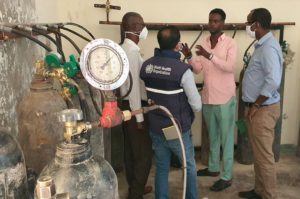 Context
Decades of conflict and fragility have left Somalia with huge challenges. Despite several transitional governments, militant groups control large swathes of the country, with the majority of the population living under imminent security threats.  The country is also besieged by natural disasters, drought and food insecurity.
Sadly, it is no surprise that Somalia's health indicators are among the worst in the world – with life expectancy at just 56 years. The country has the highest under five mortality rate, the second highest newborn mortality rate and the sixth highest maternal mortality ratio globally. More than 60,000 children die every year, mostly from preventable diseases. 
Somalia has the lowest Universal Health Coverage index score in the world: 25 out of 100. There is no health insurance or social protection system in place; with out-of-pocket expenditure on health common. Around 75% health facilities are currently supported by NGOs.  
According to the WHO, Somalia has more than 2,779 confirmed COVID-19 cases and 90 deaths as of 22 June 2020.  
Scaling up oxygen and the WHO Inventory Tool
There is a severe shortage of medical oxygen in Somalia. Bedside oxygen concentrators are scarce, with too few oxygen generation plants for filling cylinders. Where oxygen does exist, it is very expensive – with private suppliers charging around $100 USD for a large cylinder of oxygen. The one UN base producing oxygen cannot meet the demand for this scarce commodity.
To plan for the surge in demand for oxygen during the pandemic, the WHO Somalia country office worked with the Federal Ministry of Health to design and implement a strategy to scale up oxygen. 
The first step was to gather data. 
The WHO country office implemented the WHO's COVID-19 Biomedical Equipment Inventory Tool for Facility Readiness in partnership with the Federal Ministry of Health.
The rapid assessment tool was rolled out to 23 secondary-care hospitals in one week to help identify the gaps and inform the development of a rational approach to the scale up of oxygen.  
The key steps included:
Transparent communication with Federal and State and Ministries of Health
 Online training of the nominated Regional Medical Officers across all States

 

Joint assessments with hospital directors and NGO programme managers supporting the hospitals
Facility visits and collection of data (in paper form).

 

Rapid data audit (by the WHO country office) and endorsement of the final data by the Health Ministry
Once the data was gathered the scale up of oxygen was tackled in two phases.
Phase 1: Pulse Oximeters and Oxygen Concentrators
The first phase focused on the procurement of pulse oximeters and oxygen concentrators to tackle immediate needs – and to save more lives. Somalia received 76 oxygen concentrators to support case management; monitoring equipment such as pulse-oximeters; and medical consumables for oxygen delivery. These technologies were also a better fit with the skill sets of Somalia health workers, as just 23% of facilities surveyed had staff trained in mechanical ventilation and intubation.  
Phase 2: PSA Oxygen Generation Plants
The second phase will focus on bolstering oxygen supply with Pressure Swing Adsorption (PSA) plants, which were already under consideration prior to the COVID-19 response.  
Three plants were procured – for two facilities in Mogadishu and one in Hargeisa – with dedicated power generators (based on EU funding). To house these units, the WHO country office worked with UN engineers on innovative solutions to 'containerise' this oxygen (using similar technology to the high-security containers that most UN staff lived in). These 'plug-and-play' installations will serve three hospitals. 
Next Steps – short-term
We are implementing the COVID-19 oxygen therapy programme with the new concentrators and accessories in 18 functional isolation centres. Our clinical team is in the process of recruiting a biomedical engineer to ensure sustainability.
We are also working on service agreements with the PSA plants manufacturer on how we can leverage in-country capacity, make use of video conferencing, run trainings in nearby hubs (e.g. Nairobi) and conduct maintenance. 
Next Steps – long-term
The World Bank, under its Contingency Emergency Response Component (CERP), is allocating funds for the installation of medical oxygen plants in the remaining big states. This will enable us to expand oxygen availability in other major cities – Baidoa, Garaway and Kismayo – to reach more of the population.
Oxygen is a smart investment. If we invest now it will help in the future. We will closely monitor and learn from this process and continue to replicate good practice to scale up PSA plants across the country.
ENDS…/
June 2020