12 Nov

Breathing Away: Bringing Down Child Deaths From Pneumonia

This post was originally published on the Huffington Post and was cross-posted here with permission.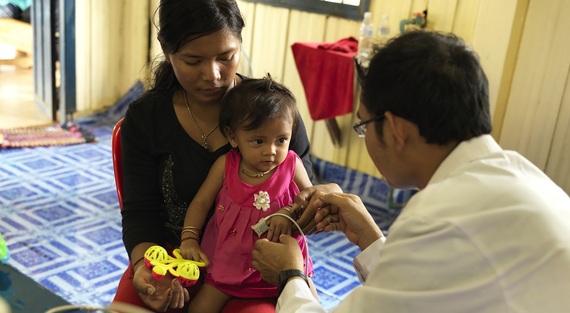 A girl in Cambodia is assessed for pneumonia. Copyright Malaria Consortium/Peter Caton
Today is World Pneumonia Day – a time to recognise the fact that pneumonia kills more children than any other infectious illness. On average, it accounts for more than 900,000 deaths of children under five each year, mostly in sub-Saharan Africa and South Asia. That is more than AIDS, malaria and tuberculosis combined.
We already have effective vaccines and antibiotics to prevent and treat this deadly illness, so why is it still such a big problem?
The main reason is that pneumonia is a disease of poverty. Methods for preventing and treating pneumonia are available and cost-effective, but less than a third of children get the care they need. This is because access to life-saving prevention and treatment is limited in remote communities, and conditions of poverty can exacerbate the causes of the disease, such as household air pollution and poor nutrition. Furthermore, distance from health facilities can pose a challenge for remote communities who find it difficult to get timely treatment and diagnosis.
Pneumonia can be lethal. Because symptoms are similar to those of other illnesses, such as malaria, it is often misdiagnosed and treated incorrectly. That is why correctly diagnosing pneumonia is so important.
Malaria Consortium's Pneumonia Diagnostics Project is working to find the best tools to detect symptoms of pneumonia in remote rural settings so that children can be properly treated. In order to do this, the diagnostic tools need to meet several criteria. First and foremost, they need to be accurate when assessing breathing rates or the level of oxygen saturation in children. Second, they have to be easy to use, especially for community health workers who may have low levels of literacy or training. Diagnostic tools must be acceptable to the health workers who use them, as well as to the children and their carers. Finally, it should be possible for them to be distributed widely at all levels of healthcare across the country.
The tools that we are currently testing include a number of respiratory rate timers and pulse oximeters. Learn more about the project by watching our video – click here to view the video.
---
About the Author: Ilya Jones – Communications Officer at Malaria Consortium, UK