06 Nov

Barun's story

Barun's story is part of a World Pneumonia Day Campaign: How oxygen matters: Stories of impact across the lifespan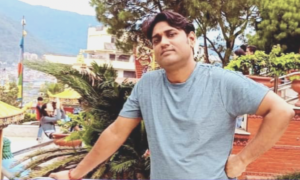 I am Barun Kumar Rauniyar, a biomedical engineer from Nepal.
When my brother Arun started having trouble breathing in May 2021, at the height of the pandemic, I experienced first-hand the obstacles families face trying to find oxygen therapy.
Worried and fearful, our family and friends started calling hospitals in search of available beds and oxygen supply for Arun. Two hospitals had confirmed availability of a bed and oxygen for him, but after waiting for one hour at the entrances of each hospital, we were not let in and returned home.
We all were losing hope. We were all crying but trying to hide our worry, so we did not discourage each other. I was trying to pretend there was nothing to be worried about so my brother would not have a panic attack.
At home, when Arun's condition worsened, we called an ambulance, and together, we started roaming door to door, traveling to five other hospitals but were turned away from each one.
We would have done anything, at any cost, to get him the medical help he needed.
Luckily, I had a relative working in the Ministry of Health in a high position who helped get Arun admitted to a government hospital with beds and oxygen therapy available in the general ward but not in the intensive care unit.
Once admitted, I noticed the oxygen flowmeter/regulator—a device used to control the oxygen flow a patient receives—attached to my brother's bed was leaking. There was one nurse in the ward, and she tried her best to reach the maintenance staff. But due to the late hour—around 11 p.m.—she did not get a response.
I tapped into my experience working with medical equipment and temporarily fixed the leakage by adjusting the knob and volts carefully by hand and without any tools.
The knob was broken, and I was so worried that I kept my eyes on it that whole night and until the next afternoon when it was replaced. Until that point, I felt like it could fail at any time.
I stayed at my brother's bedside, constantly monitoring the oxygen machine's oxygen concentration, adjusting its flow rate, and adding water to the humidifier chamber. Due to the hospital's limited resources, including biomedical engineers/technicians, nurses, and doctors, patients had to manage pulse oximeters on their own.
On-call doctors and nurses were absent and unavailable, even on emergency calls, which meant that patients would only be seen once or twice a day. That compelled me to support the nurses to care for other patients, as well. 
I was helping the nurse by measuring other COVID-19 patients' blood pressure, pulse rate, oxygen saturation, and temperatures. And I was using sanitizer and wearing a mask, which were the only preventive measures available. 
After ten days in the hospital, when Arun could breathe on his own, he was discharged. Patients were being admitted to the hospital, and they needed his bed and oxygen equipment. 
It was a horrible situation. People were dying because of lack of care, lack of medicines, and medical equipment like portable x-ray machines and high-flow nasal cannula devices; as well, oxygen concentrators, ventilators, saturation devices, sensors, and filling stations were scarce. 
But I felt proud of my profession when I realized it allowed me to save my own brother's life.
ENDS…/
As told to Carrie Hemminger from PATH, October 2022.
About the author
Barun Kumar Rauniyar serves as a biomedical engineering consultant for the World Health Organization South-East Asia Region (WHO-SEARO) and is a collaborator with the International Federation of Medical and Biomedical Engineers (IFMBE) – Clinical Engineering Division. He is a graduate of the College of Biomedical Engineering & Applied Sciences in Nepal and is deeply committed to strengthening the capacity of the biomedical engineering profession in Nepal and the region.
Barun's story is not unique. Read more stories like this here.
To hear more from Barun about his experience searching for oxygen therapy, register for our PATH Live Form: Making the case for oxygen: Ensuring continued investment in medical oxygen systems